Squier are probably the biggest entry level guitar brand. Owned by Fender, they account for so many first time guitars for beginners or those looking for an affordable but decent instrument. But are Squier guitars good?
They are hugely popular with those looking to buy their first guitar and want a good entry point. And they have a reputation for excellent value for money considering their playability and quality.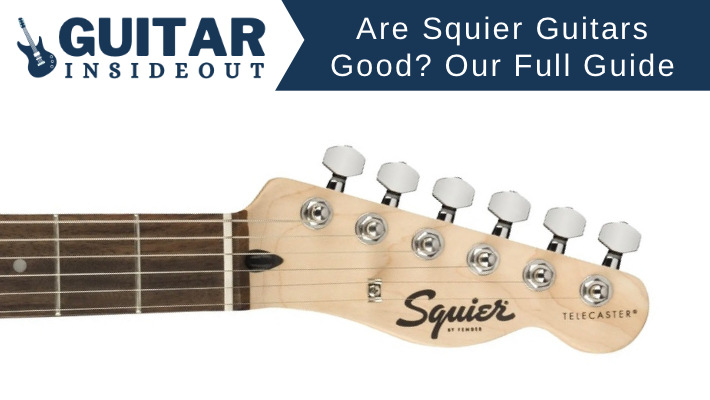 Let's take a closer look at Squier guitars – where they're made, how they sound and whether they're good for beginners and experienced guitarists alike.
Who Owns Squier Guitars
Fender owns Squier having bought it in 1965. Squier was originally a family company named after its owner, Jerome Squier, and his son Victor Carroll Squier. Leo Fender bought Squier in 1965 shortly before selling Fender to CBS.
History of Squier
Squier was founded by Jerome Bonaparte Squier in 1881, who originally repaired and built violins under the name of Squier with his son Victor Carroll Squier. Not long after he began to make his own violin strings which became extremely popular. Due to this popularity Squier branched out and began making strings for banjo's and guitars too, which were equally as popular because of their affordable price.
As electric instruments started to be used more commonly in the 1930's Squier took advantage by making and selling strings for them. This would lead to a relationship with Leo Fender, who had founded Fender Electric Instruments in the late 1930's. Squier supplied Fender with strings for his new electric guitars.
It wouldn't be long before Fender saw the potential in Squier and bought the company in 1965. Although within the same year CBS had acquired Fender and as they would soon change the name of the strings they used to Fender it meant that by the mid 1970's Squier as a brand was retired.
It wouldn't be until the 1980's that the Squier brand would be reintroduced. Fender needed to compete in the Japanese market where cheaper copies were doing better than the more expensive Stratocasters and Telecasters. The cost of production was cheaper in Japan so Fender moved production of their entry level guitars to Japan and branded them under the Squier name.
In the following decades Squier moved production to a variety of different countries including China, Indonesia and Korea. Squier, now also known as Squier by Fender, as a brand has become very successful and is known for good quality but affordable guitars.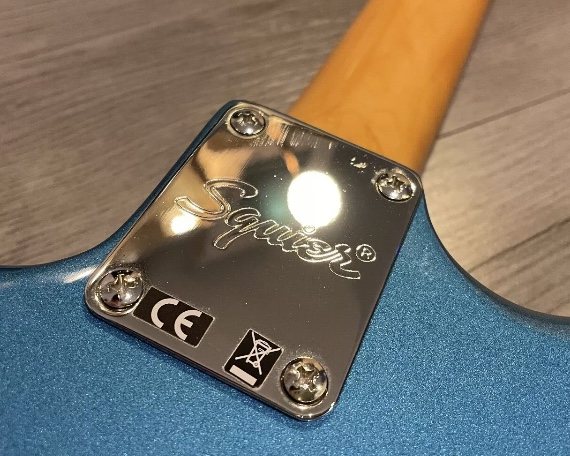 Where are Squier Guitars Made
Squier guitars are currently made in China and Indonesia. The original Squier guitars in the 1980's were made in Japan and Fender has also produced them in the likes of India and Korea.
This is due almost entirely to the production costs. Making guitars in the likes of China or Indonesia is far cheaper than elsewhere. So as it stands that's where they are made, but as they've moved quite a few times it's not impossible that will change again in the future.
Which Artists Play Squier Guitars
As Squiers are predominantly cheaper and more entry level guitars marketed at beginners it means there are fewer well known guitarists using them. However there are still a few who rock or have rocked a Squier:
J Mascis of Dinosaur Jr – plays his own signature Squier Jazzmaster.
Joe Trohman of Fall Out Boy – plays his own signature Squier Telecaster.
Pete Wentz of Fall Out Boy – plays a Squier P-Bass.
George Harrison – used a Squier Stratocaster live on occasions.
Mike Rutherford of Genesis – played a Squier Bullet Stratocaster on recent Genesis tours.
Jack Pearson of The Allman Brothers – plays Squier Affinity and Bullet Stratocasters.
Jeff Healey – played Squier Strats his entire career.
John Mayall – used a saw down Squier Strat.
Avril Lavigne – has her own signature Squier Telecaster.
Steve Rothery of Marillion – used a modified Squier Strat.
Gary Rossington of Lynyrd Skynyrd played a Squier Strat.
What are Squier Guitars Good for?
Squier guitars are generally marketed as beginner guitars. As such they're used by new guitarists to play all sorts of different musical styles and genres.
And as you can get Squier versions of most types of Fenders, including Stratocasters, Telecasters, Jazzmasters, Mustangs and more, it means you can play virtually any style of music with a Squier.
The pickups and amp the guitar is played through is far more important to the sound you get. So if you want to play metal through to jazz with a Squier it's perfectly possible.
Do Squier Make Good Quality Guitars?
Yes, Squier make good quality guitars. The worry amongst some is that because they are the more affordable range of Fenders guitars and not built in America they are not up to standard.
Whilst the USA or Mexican made Fender guitars are considered to be better quality that doesn't mean Squier's are poor. They may not use as higher quality hardware and the pickups may not sound quite as good, but that doesn't make them bad instruments.
What you will get from a Squier is a well made, long lasting guitar that is more than good enough to learn on and grow and improve with. In fact a Squier guitar, especially ranges like the Classic Vibe Series, is absolutely capable of being used as a professional instrument and gigged with or played live.
And you could make a convincing argument that amongst the more affordable and entry level guitars Squiers are the best, both in terms of quality and value for money. Gone are the days of 10 or 20 years ago where if you bought cheap you would get a really awful guitar. These days Squiers are able to hold their own against the fancier and more expensive makes and models out there.
What Is The Difference Between Fender And Squier?
The main difference between Fender and Squier guitars is the quality of the materials and hardware that is used. Squiers are more budget guitars, built with less high-end parts. Fender guitars in comparison use premium materials.
The woods, electronics, hardware and pickups are all superior in Fenders. Squiers aren't bad, but their pickups, for example, are seen as having less clarity and a weaker sound.
The volume and tone pots on Squiers are less high quality than Fenders too. Some Squier tuners aren't as good as the ones found in Fenders and the quality control may not be as scrupulous.
But while these differences matter to some, it doesn't mean Squiers are poor instruments. A regular, affordable burger isn't as high quality as a pricey steak from a fancy restaurant, but I'm willing to bet you enjoy the burger just as much. You can think of Squier and Fender in the same way.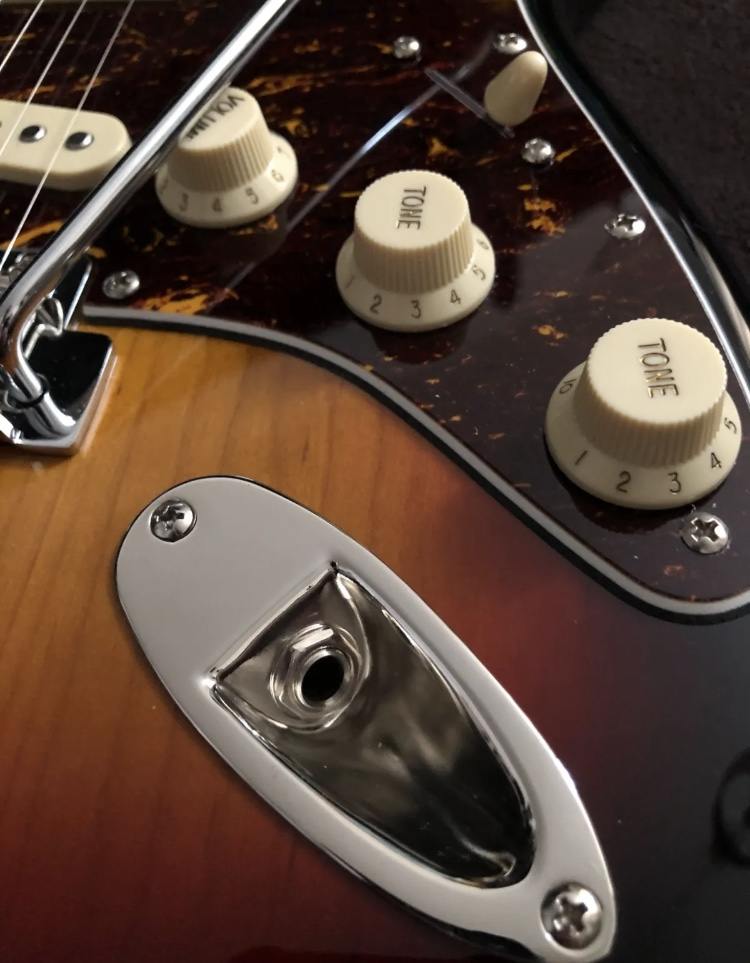 The Squier Range
There are quite a few different series of guitars under the Squier umbrella. Let's take a closer look at each one.
Bullet Series
The Bullet Series of Squier guitars is their most affordable range. Aimed squarely at beginners who want to begin their guitar journey. There are 3 models – the Bullet Stratocaster, Telecaster and Mustang.
The Stratocaster is the most famous of all guitars and features the signature 3 single coil pickups. The ideal all round guitar.
The Telecaster is almost as famous as it's big brother the Strat. It also had single coil pickups only 2 of them and has a very distinctive, twangy sound.
The Mustang has 2 higher output humbuckers that give a much fuller, thicker and more aggressive sound. Ideal for a big rock sound.
Sonic Series
The Sonic series is Squiers latest range and going to act as a replacement for the Bullet Series. Don't worry though, there aren't going to be any major changes.
The biggest difference is they're making them a bit more accommodating for children looking to learn guitar. So they're going to be a little lighter and thinner.
Aside from that there are lots of new funky finishes (Ultraviolet, Torino Red, Flash pink etc.) and a few new models like an Esquire and single pickup Startocaster.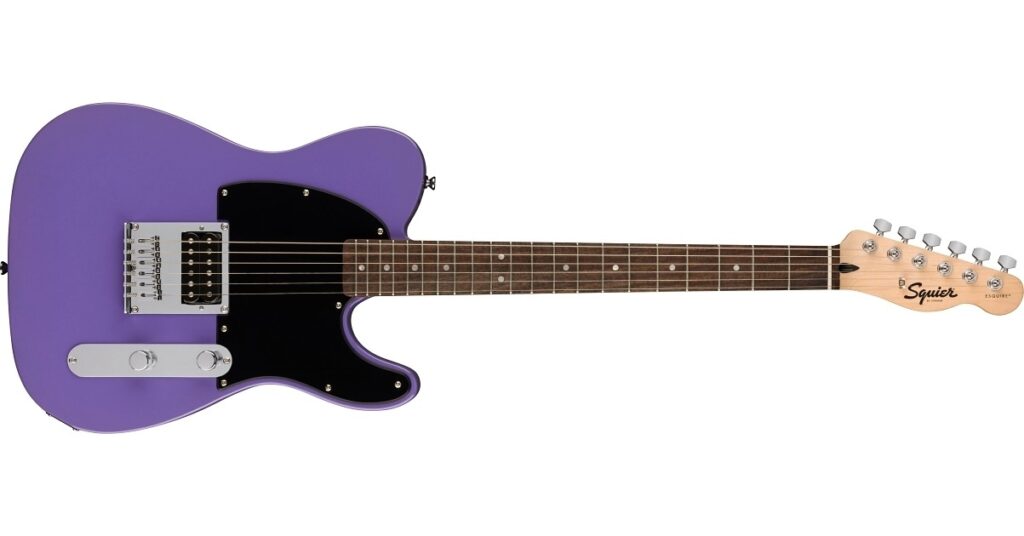 Affinity Series
The Affinity is a small set up from the Bullet series but still very much for beginners and still very affordable. It is Squiers biggest seller and the one you will see in virtually every guitar shop worldwide.
It's the guitar that a huge number of people will have started with (including myself!).
The Affinity series has even more models than the Bullet too, with Affinity Stratocasters, Telecasters, Jazzmasters and others. There is even a range of Affinity basses that are the ideal starting point for perspective bassists.
Contemporary Series
As the name would suggest the Contemporary series is a modern upgrade of some of Fenders classic designs. From Telecasters and Stratocasters to Starcasters and Jazzmasters, as well as Jazz basses, the Contemporary line has a great choice of quality models.
Aimed at more advanced or intermediate guitarists, the set of features is a step up from the likes of the Bullet series. That is reflected in the price but you still get a lot of bang for your buck.
Paranormal Series
The Paranormal Squiers are definitely the most interesting of the Squier range. Featuring a mix of unique and strange guitars from both Fenders history and new creations.
The Toronado, for example, is a long forgotten Fender but bought back as an affordable Squier and the Super Sonic has a reverse headstock and body shape. And that's just two of many.
If you want a guitar that will stand out, have people asking you questions about it whilst still being affordable the Paranormal series is a great choice.
Update: Squier have released 5 more Paranormal models: an Esquire, 12 string Jazzmaster (!), Nashville Stratocaster, Strat-O-Sonic and Rascal bass. They're as quirky as you might imagine, although as a long time fan of the original Strat-O-Sonic I'm pleased to see it back. The Paranormals are a weird bunch of guitars but tons of fun.
Classic Vibe Series
The most expensive in the Squier range, albeit still very affordable, the Classic Vibes are one of biggest bargains in the guitar world. You get so much guitar for such a reasonable price.
As the name hints at, these guitars are based on the vintage Fenders of bygone eras. You get vintage voiced pickups and traditional hardware.
The Classic Vibe series has a big range of models too, from elegant Thinlines to rare Esquires as well as the usual Telecasters and Stratocasters.
Bassists aren't left out either with the Jazz Bass, P-Bass and a 50's Telecaster Bass amongst more of the Classic Vibe series.
To understand how the models differ see this guide to the differences between Squier Classic Vibe 50's, 60's and 70's.
Which Squier Series is the Best?
I think the Squier Classic Vibe Series is the best of the Squier series of guitars. You get a very high quality guitar for an affordable price that is not only good for learning on but more than capable of gigging with too.
The materials and hardware used are better than the other series, the pickups sound good, they are designed to closely resemble the Fender versions (and get close to them). You are generally getting a higher calibre of instrument with the Classic Vibe Series.
If your budget is tighter and the Classic Vibe is out of your price range then I would go for the Bullet or Sonic Series. The Bullet Mustang is fantastic value for money and very highly thought of. The new Sonic series is replacing the Bullet range but assuming there are few changes then they will make greater starter or backup guitars for a very reasonable price.
Do Squier Guitars Have Good Quality Hardware?
Let's take a look at the hardware that is used in Squiers.
Tuners
The tuners used on a Squier guitars vary. The Classic Vibe and Vintage Modified Squiers use vintage slotted tuners which are just as good as regular Fenders. These are great tuners that shouldn't have any issues and are great for a more entry level guitar.
But some Squiers have sealed or "closed" tuners and those aren't as good. Whilst they're not terrible, they can be awkward. Hard to turn and just not as good as the vintaged slotted ones.
But if you're a beginner it shouldn't really be an issue. Some more advanced players like to upgrade parts and modify Squiers but it isn't necessary if you're just starting out.
Nut
Plastic nuts are the most commonly used in lower end guitars and a lot of Squiers are no different. The Bullet Strats and Tele's use synthetic bone, for example, which is plastic mixed with some bone powder.
But the Classic Vibe Series and some of the Vintage Modified Series have bone nuts. Bone is considered one of if not the best material for guitar nuts.
Bridge
The bridge will depend on the type of Squier. For example all Squier Stratocasters, from Bullets to Classic Vibes, have a 6-saddle vintage-style synchronized tremolo bridge.
But Squier Telecasters differ. A Bullet Tele has a 6-saddle hardtail bridge whereas the Classic Vibe Tele has a 3-saddle vintage-style strings-through-body bridge with chrome barrel saddles.
The quality of these bridges is more than adequate and shouldn't cause any issues.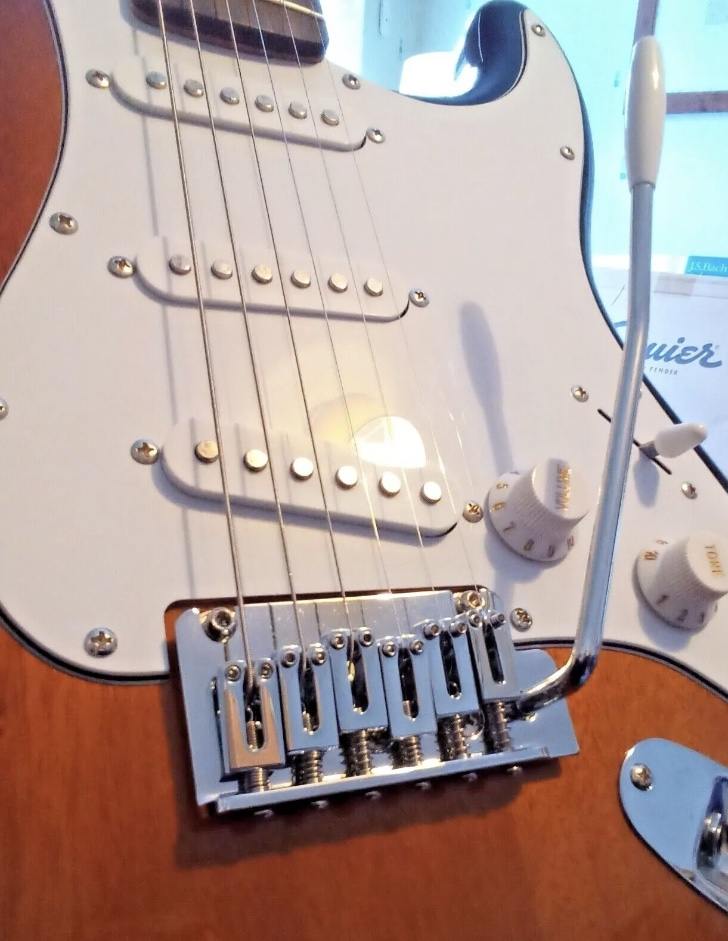 Pickups
Squier guitars use both single coil and humbucker pickups. There was a Squier Telecaster Custom that had P90 pickups but has since been discontinued.
Squier pickups are different to the ones used in standard Fender guitars. Generally considered not quite as good in terms of tone they are still usually decent enough.
One of the first upgrades many people do is changing pickups. It's where much of the tone comes from and so if a Squier has poor sounding pickups it's the easiest way to make a big difference.
But it's really a matter of taste. There are many people who find the Squier stock pickups fine and never consider swapping them.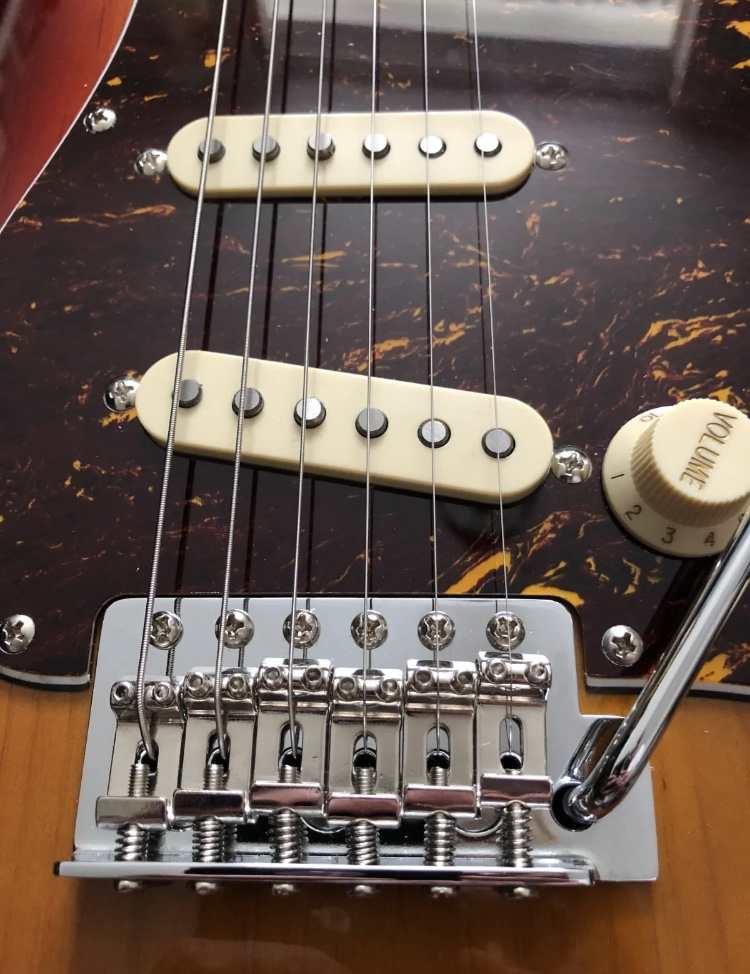 Electronics
Cheaper made guitars use parts that are lesser in quality than higher end guitars. And the electronics is one area where this can show up.
Squier volume and tone pots may be a little rough when turning them and feel a bit cheap. Transitions could be better too with the taper not being as smooth as you might like.
None of these should be dealbreakers though. When you buy a guitar at the lower end of the price scale you have to accept it won't be completely perfect. But those limitations don't stop it from being a good enough instrument.
What Woods do they Use
The quality of woods used across the Squier range of guitars differs depending on the model. Cheaper woods aren't necessarily poorer sounding, rather they don't look as good as more expensive woods.
Most of us can't tell any difference between the tones different woods produce anyway. The effect is so small that it doesn't matter. So even if a Squier isn't made from the best wood it won't negatively impact the way it or it plays.
Squier guitars are almost all made from solid wood. In the 80's through to the 90's the Japanese produced Squiers had basswood or alder body's.
The Chinese Squiers used alder wood and the Mexican ones poplar. The current Affinity series uses alder, the Bullets basswood.
The Classic Vibe Series began as alder but are either pine, poplar or nato now and the Vintage Modified were basswood.
Squier necks are generally made from maple. Fretboards are a variety of maple and Indian laurel.
Are Squier Guitars Finishes Good
Squier guitars will have a good enough finish but as they are the cheaper end of Fenders range you can expect small mistakes to sneak through.
The Body
You may find that some Squiers have discrepancies in quality. When guitars come off a production line it's far more likely the quality control won't be as good. So you can't expect perfection.
That's not to say you will get a guitar with huge cracks or scratches. But it may not be completely flawless with the possibilities of blemishes or smaller marks.
Fretboard
You're more likely to find issues with the fretboard. Sharp fret edges will be fairly common along with uneven and high frets.
More expensive Fenders shouldn't have any of these issues but quality control in the Squiers that are mass produced may be lacking.
You can avoid these types of issues like high frets or high action by paying for a guitar tech or luthier to set up your guitar for you. It is an extra cost on top but means you get a guitar that is easier to play and will sound at its best.
Why are Squier Guitars Cheap?
Fender can sell Squier guitars for cheaper than their other models because the production costs are much lower. They also use less expensive parts – hardware, electronics etc.
Production in China or Indonesia is much less expensive than making a guitar in America. Which means they can charge less for the finished guitar.
Are Squier Guitars Good for Beginners?
Yes! Squier guitars are often an entry point into owning and playing a guitar for beginners because they're priced so reasonably. You get a decent instrument that is perfectly good for learning and growing with that doesn't break the bank.
But with the advances in quality of the lower end guitars you are beginning to find more experienced guitarists playing Squiers. In the past the difference between a higher end guitar, like an American made Fender, with a Squier was huge. Now the gap is much smaller and so people are choosing the cheaper but almost as good instrument.
So Squiers are good for everyone!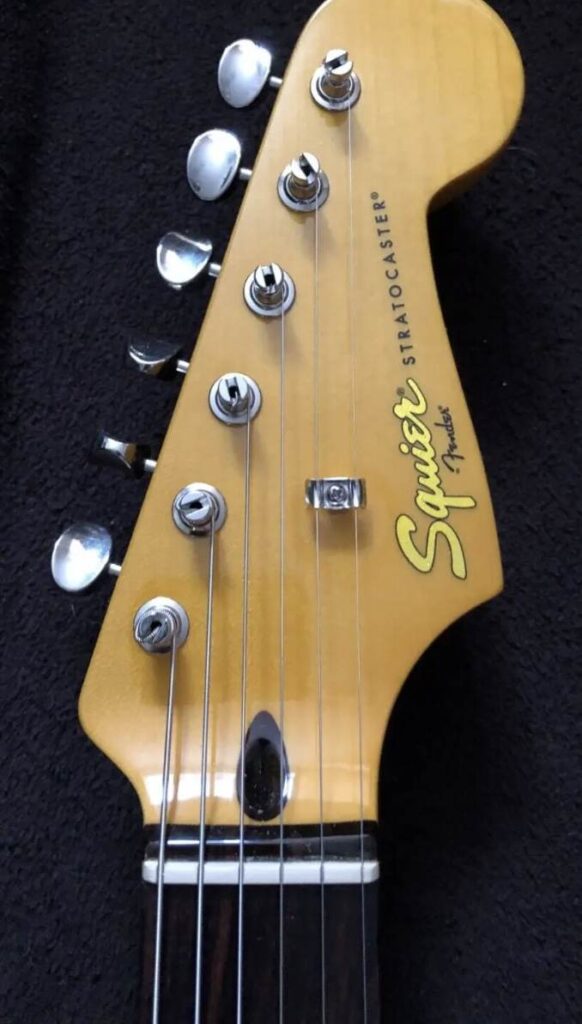 Do Squier Guitars Come with Cases
Most Squiers come with soft gig bags rather than hard cases. Squier guitars will fit in regular Fender cases though.
How Long do Squier Guitars Last
They can last a lifetime if you treat them well! There is a perception that cheaper guitars aren't very good and won't last long.
But that isn't fair. Especially now.
A good Squier could last as long as you want, assuming you take care of it. They are fine instruments that are able to withstand you playing them in the way you would play any guitar.
Don't be put off buying a Squier because you think it will break within a year or two. That absolutely isn't the case.
So, are Squier Guitars Good?
It's hard to think of a better beginner guitar than a Squier. They have been the choice of learners and those starting out for a reason. And that's because they are decent, durable guitars that don't cost too much.
In fact with the Classic Vibe series they're actually very good guitars that perform far better than their price might suggest.
So yes, Squier guitars are definitely good and play a very important role in helping budding guitarists begin their journey and start learning. What could be better than that.