Dean are one of those guitar makers that don't get a lot of recognition. While they're often overlooked they actually have an impressive history. But are Dean guitars any good?
Their guitars have been endorsed and used by some famous names and bands over the years. And they've managed to survive amongst the bigger brands.
Let's take a closer look at Dean guitars – where they're made, how they sound, what they're good for and whether they suit beginners and experienced guitarists.
Who Owns Dean Guitars
Dean are owned by Armadillo Enterprises, a private company owned by Elliott Rubinson (who passed away in 2017). Dean was originally started by Dean Zelinsky in 1976 before he sold the business to Oscar Medeiros of Tropical Music in 1986. Medeiros retained ownership of Dean until it was sold to Rubsinson.
History of Dean
Dean Guitars was founded in 1976 by Dean Zelinsky in Chicago. Zelinsky, much like Leo Fender, had a keen interest in electronics from a very young age and would take apart and put back together things like radios.
He would soon turn his attention to music and specifically guitars. He learned to play and also how electric guitars worked. His interest lead to him doing a lot of repair work and custom paint jobs for his local music scene and musicians in Chicago.
He the took that experience and started his own company, Dean Guitars.
The early Dean guitars were more traditional designs aimed at competing with Fender and Gibson. Zelinsky wanted to improve upon the Flying V and Explorer shapes that Gibson had.
In 1978 Zelinsky designed the iconic V guitar shape, heavily influenced by the Gibson Flying V. This really put Dean on the map as a rock and metal guitar brand. Soon after arguably the most well known of the Dean lineup was created – the "ML", which was a combination of the V and Explorer.
Through the 70's and early 80's Dean continued to innovate and produce guitars with elaborate shapes and designs. These models appealed to the heavy rock and metal bands of the time and Dean continued to grow in popularity.
In 1986 Zelinsky sold Dean to Tropical Music who were the exclusive importers and distributors of Dean Guitars. The new owners moved production to South Korea and focused more on mass production.
During this period Deans popularity in the US plummeted to the point of them barely selling any guitars there. Then in 1997 Dean were purchased by Elliott Rubinson and the company began to get back on track.
The product line grew to not only electric guitars but acoustics, bass guitars, ukuleles, banjos and mandolins. These ranged from extremely cheap and affordable entry level models to the highest price points.
Not long after Dean got many endorsements from a lot of top metal guitarists. This helped with their resurgence, especially amongst the heavier styles of music.
Today Dean are still known for their association with rock and metal, endorsed by many famous guitarists in the genre. But they also produce more mainstream designs alongside their signature V shaped guitars.
Did Dean Guitars go out of Business?
No, although during the 1990's they did shift their focus to Latin markets. So in the United States Dean virtually disappeared until they were bought by Armadillo Enterprises, lead by Elliott Rubinson.
That might explain why you hadn't seen much of Dean.
Dean have also faced more recent issues. In 2022 Gibson won a lawsuit regarding counterfeiting and trademark infringements on their Flying V, Explorer, ES and SG body shapes and some headstock designs.
This means Dean haven't been able to produce some of their most well known guitars – the V and Z – as they infringed on the Gibson designs. This also impacted some of the signature models from some big names.
Only a year or two before this Dean also lost some of their big name endorsements like Dave Mustaine in 2019 and the Dimebag Darrell's estate in 2021 (who also sued for trademark infringement). The current signature models and endorsements being shelved due to the Gibson lawsuit is likely to lead to more artists leaving Dean.
So while Dean are currently still in business they are going through some major setbacks. Some have even speculated they could be in big trouble.
This video from KDH does a real deep dive into the legal issues and the potential ramifications:
Where are Dean Guitars Made
Dean guitars are currently made in the USA, South Korea and China. The Custom, higher end Dean's are made in the USA (specifically Tampa, Florida) and the price reflects that.
Dean's mid range and entry level guitars are manufactured in South Korea and China respectively.
As with most of the guitar industry the production of more budget friendly models has been moved to the likes of China. Production costs are far cheaper there than elsewhere.
South Korean made guitars are considered better quality than Chinese or Indonesian made ones, although not up to the same standards as USA made instruments.
Which Artists Play Dean Guitars
Dean have many famous guitarists from the world of metal and rock that have and do use their guitars. These are just some of the most well known current Dean players:
Kerry King of Slayer
Corey Lowrey of Seether
Michael Schenker of UFO and Scorpions
Michael Angelo Batio
Eric Peterson of Testament
Michael Amott – Arch Enemy
Doyle Wolfgang Von Frankenstein of Misfits
Bret Michaels of Poison
John Connolly – Sevendust
David Vincent – Morbid Angel
Jonathan Donais – Anthrax
In the past Dean have been endorsed and made guitars for artists such as:
Dave Mustaine of Megadeth
Dimebag Darrel of Pantera
Billy Gibbons of ZZ Top
Vinnie Moore of UFO
Elliot Easton of The Cars
Randy Rhoads
Zakk Wylde
Trent Reznor of Nine Inch Nails
Jerry Cantrell of Alice in Chains
John McFee of The Doobie Brothers
Nancy Wilson of Heart
What are Dean Guitars Good for?
Dean are predominantly known as metal and rock guitars. You only have to look at the famous guitarists who use or have been sponsored by Dean to see the influence on metal they have had.
Their pickups are usually higher output that work well for heavier styles of music. The necks tend to be good for playing faster and technical music.
The body shape of many Dean guitars is also very much associated with metal. Quite a lot of their range are pointy looking guitars with quite elaborate shapes.
But of course none of that means you are limited to only playing metal with a Dean. You can play any style with any guitar, although some are more suited for certain genres than other.
Also Dean acoustic guitars are underrated. Acoustic guitars obviously aren't designed for playing hard rock or metal and Dean have done a good job of producing quality and affordable acoustics.
They usually get overlooked, probably because of Deans reputation of being a metal guitar brand. But if you're looking for an affordable acoustic that gives you a great instrument for a decent price it's well worth checking out Dean acoustic lineup.
I should also mention their basses. I'm not a bass player myself so can't speak for their quality. But everything I've heard and read is that they punch above their weight and are really good too.
As Dean are somewhat overlooked compared to their competitors there's a good chance you can find a bargain bass or acoustic.
Do Dean Make Good Quality Guitars?
The higher end models made by Dean are considered to be excellent. USA made Deans are quality instruments that will stand up alongside the best of the likes of Gibson and Jackson.
The endorsement from some of the top guitarists mentioned above speaks to their quality and credibility. Their high end and signature models are aimed almost entirely at metal players but they do that type of guitar really well.
However, Dean's mid to lower end range of guitars are a bit of a mixed bag.
The Korean made Deans are mostly good. You obviously don't get the same quality as the USA made ones but they're decent enough for what you pay.
Korean made guitars are usually pretty good. I've got a Korean made Fender and it holds up really well against higher priced, similar models.
Chinese Deans aren't great though. The quality control is hit and miss and generally they don't match up to many of the other guitar brands producing guitars in China.
When it comes to acoustic and basses Dean are genuinely very good. They can't compete with Taylor or Martin, as you would expect, but they're much better than you might first think.
I think Dean acoustics are overlooked because the brand is so heavily associated with rock and metal. You sort of assume they aren't going to be focusing on making good acoustic guitars.
But you can find some great bargains on Dean acoustics that will be just as good as far higher priced guitars.
As for the basses – they're decent. You'll get a solid instrument that won't let you down, and at the lower prices they're more reliable than the electric guitars.
So to put it more simply: the USA Deans are high quality guitars but their imports vary in quality. If you're considering getting one you'll want to spend some time trying it out and checking for issues first.
Do Dean Guitars Have Good Quality Hardware?
Tuners
Dean guitars use a variety of tuners depending on the model. On their higher end guitars Grover tuners are popular and some of the best tuners you can get.
The cheaper models all feature sealed die cast tuners which aren't as good as Grovers. They're not awful but they can be slightly awkward and harder to turn.
If you're a beginner or looking for a cheaper guitar knowing it won't be as good then you shouldn't worry about the difference in tuners. It's not going to be a major issue.
And of course you can always do some modifications or upgrades.
Nut
Like most guitar manufacturers Dean use the best nut materials for their higher end guitars. So the high end Deans will have bone or graph tech nuts.
The more affordable models tend to have plastic nuts. While plastic is considered the poorest material for nuts it's standard for most lower end guitars.
All the major brands entry level models – the likes of Squier, Epiphone etc. – will have plastic nuts. So if you're a beginner it's not really going to be a problem.
And if you want you can always upgrade to a bone nut if you're worried (although it's definitely not necessary).
Bridge
Deans are mostly known for having hardtail bridges and they're definitely the most common on their guitars. But a fair few of the Dean range also have Floyd Rose options too. Even some of the entry level models.
The hardtail bridges are straightforward and decent. They're well suited for the types of guitars Dean make. They're not going to win any prizes but they'll get the job done.
Some of the higher end models do have different types of bridges though. For example the Colt series have bigsby's.
One thing to consider: if you're a beginner then you may want to avoid a guitar with a Floyd Rose. Setting them up and tuning them can be awkward at first and they require a lot more maintenance than hardtails.
This guide goes through the differences between fixed and floating bridges.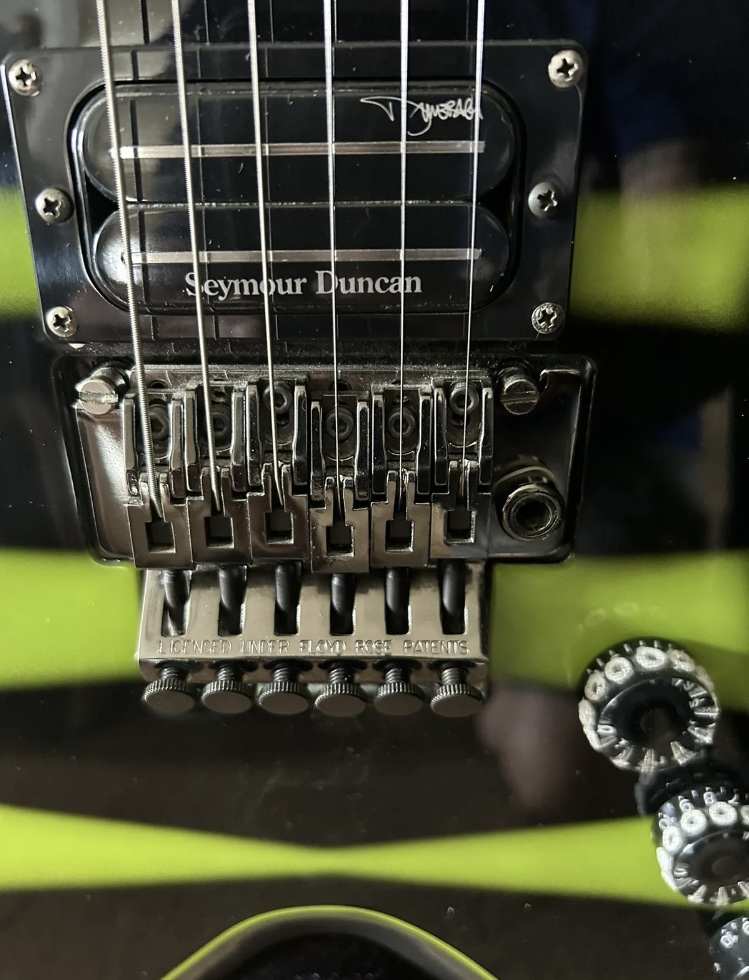 Pickups
As Dean guitars are geared towards rock and metal most of them have humbucker pickups. That means they are higher output pickups that can handle distortion well.
They use both passive pickups from the likes of Seymour Duncan and Fishman as well as active pickups on some models.
The stock Dean pickups, called DMT, are fine. They're made with rock and metal in mind – you probably aren't going to be playing jazz or R&B with a Dean – and so provide decent high output.
Electronics
As already mentioned the higher end Dean models, namely the made in USA ones, are quality. And importantly you can feel that quality.
The electronics should be good. Smooth pots, sturdy switches and no issues with any grounding of the wires etc.
However, the import and lower end Deans will have noticeably cheaper feeling pots, switches and wiring. You will probably get some scratching when you turn the volume and tone pots and the switches will feel plastic-y and flimsy.
That is, to certain extent, what you would expect from a cheaper guitar. But with someone like Squier the guitar may feel cheaper but still play fine. Dean however are known for that cheapness actively making the guitar worse.
This can be an issue if you're a beginner because you'll end up with a guitar that, frankly, isn't up to the job. And when you're getting started you need something that may not be wonderful but you can at least learn on.
No one should be expecting something special when you're paying $150. But it should still be playable and adequate and too often those lower end Deans can't even deliver that.
What Woods do they Use
For the bodies of Dean electric guitars they use a wide range woods. Alder, poplar, mahogany, basswood, ash, paulownia and more. These are all standard woods used across most guitar brands.
It's worth remembering that the wood makes little to no difference to the sound of the guitar. It's purely how it looks. So even if a Dean isn't made from the best wood it won't have any effect on how it plays or sounds.
As an example the Dean Vendettas body is made from paulownia. Vendettas are some of Deans most affordable electric guitars and paulownia is a very lightweight, cheap and soft wood. That means it's more likely to dent that other woods but it's perfectly fine for a guitar.
We earn a commission if you make a purchase, at no additional cost to you.
The Exile series is at the other end of the spectrum and can be priced upward of $2000. The body is made from mahogany which is a well known wood for guitars and works very well. But realistically the price difference isn't coming from the wood, rather other parts and the attention to detail used in the manufacturing.
Fretboards are either rosewood or maple, again very common fretboard woods.
Basically there's nothing particularly unusual about the wood choices – Dean use established and proven woods that work.
We earn a commission if you make a purchase, at no additional cost to you.
Are Dean Guitars Finishes Good
The Body
One of the major things that sets Dean guitars apart from others is their body shapes and finishes. And those finishes and the paint jobs are good quality. Even on the lower end import models the finishes are decent and hard wearing.
Obviously you expect the overall build quality and finer details to be less refined on a cheaper guitar. So that could be you get some blemishes or smaller marks.
But the finishes tend to be good across the range.
The Fretboard
Don't be surprised if on the lower end models you get some sharper fret edges or uneven/high frets. Again, it's something you have to accept on the cheapest models.
The expensive Dean's shouldn't have any of these issues though. The fretboard finish should be good with well smoothed and finished rosewood or maple boards that play nicely.
Why are Dean Guitars Cheap?
Dean can produce cheap and affordable guitars largely due to how they are manufactured. They have their cheapest guitars built in countries like China and Indonesia where labour costs are far lower than in the USA.
Those guitars are then imported and sold for far less than the USA models. They also use cheaper hardware and electronics which helps to bring the costs down.
Dean isn't alone in doing this. Most guitar manufacturers have their entry level models built in places like China and with cheaper parts so they can be sold for less.
Are Dean Guitars Good for Beginners?
Dean have a good amount of beginner friendly guitars that you can get on a tight budget or if you don't want to spend too much. However its these lower end models that don't have a great reputation.
If I were a beginner today I would probably steer clear of getting an entry level Dean. I'm sure you can find decent ones, and as always you should play a guitar in person before buying it, but everything I've experienced and read tells me the lower end Deans aren't great.
If you're a massive metal-head and drawn to Deans because of their association with metal bands, and the looks/body shapes of their guitars, I can totally understand the appeal. All I would say then is be careful and play lots of Deans and other brands.
I personally think an Ibanez or Schecter would be a better 'metal' beginner guitar. And if you're not particularly interested in heavier styles of music then a Squier or Epiphone would probably be a better choice too.
Having said all that Dean acoustics are surprisingly good. They're also often overlooked as good beginner options. You can find some really decent, cheap Dean acoustics that will be perfect for starting out on.
Are Dean Guitars Only for Metal?
Whilst Dean are heavily associated with metal and rock thanks to their artist endorsements and style of guitars they do make some guitars that aren't typically 'metal'.
And of course you're not limited to only playing heavy music with them. You can play any style on any guitar.
Their pickups and neck profiles do lend themselves to metal but with a good amp you can easily play blues, jazz or anything you want on a Dean.
And having a good selection of acoustics and basses helps to dispel the idea they're only intended for heavier music.
So while metal is the name of the game for most Dean electrics there are some options in their lineup that you can look at if it metal isn't your thing.
What About Dean Acoustic Guitars?
Yes, Dean acoustics are actually pretty good! Because Dean are pigeonholed as a metal brand their acoustics get overlooked. But for beginners or those looking for an affordable workhorse acoustic Dean do some solid and decent budget friendly guitars.
Something like the Exhibition gives you great bang for your buck. They're also a really good choice if you are thinking about amplifying one later down the line. They're pretty sturdy and durable with pickup ready designs.
Obviously they can't compete with top end Martins and Taylors. But dollar for dollar they hold their own against other acoustics in their bracket. So it's well worth checking out Dean acoustics for an unexpected bargain.
We earn a commission if you make a purchase, at no additional cost to you.
Are their Basses Good?
I'm not a bassist so you might want to take what I say with a pinch of salt. But a lot of what I've read is that Dean basses are similar to their acoustics and surprisingly good.
Possibly because they aren't immediately associated with bass playing so they fly under the radar despite offering great value.
You can get a range of basses, with 4, 5 and 6 string models catering to different playing styles and tastes. They use good hardware and electronics including Bartolini pickups on higher end models.
The quality control on the imports can be inconsistent but when you find a good one they tend to punch above their weight. Good playability and very reliable.
We earn a commission if you make a purchase, at no additional cost to you.
Do Dean Guitars Come with Cases
Most Dean electrics come with a gig bag as standard. Hardshell cases are available to buy separately. Some models like signature guitars may come with a case included though.
For acoustics they usually come in a hardshell case since acoustics require more protection. Basses mostly come with a gig bag unless bought as part of a bundle.
Something to keep in mind – because a lot of Deans have really elaborate and different body styles they often need their own special cases. A lot of Deans can't fit into a regular gig bag or case. You may even have to look at getting a bass case for your Dean electric.
So, are Dean Guitars Good?
Well.. it depends. If you want a high end, USA made guitar then Dean's Custom Shop models are up there with other American brands.
And for intermediate players or those looking in the mid price range then Dean has some good choices too. Their Korean made models will rival the completion like Schecter and LTD.
But their more affordable models can be hit or miss, and that's being generous. There are definitely some major issues with the low end Deans. So if you were looking at one you would need to try it first.
Their reputation in metal and rock gives them
If you're a beginner and buying an entry level guitar I would probably steer clear of Dean. Other brands are significantly better at that level and price.
But if you're a metal guitarist and want a guitar that will stand out then the higher priced Deans will give you what you want.
Ultimately Dean are worth looking at for a certain type of guitar but in a lot of cases you'll find