Whilst being a fairly big name in the world of guitars Jackson don't have the same recognition as Fender, Gibson, Ibanez etc. But are Jackson guitars good?
They certainly have some famous names endorsing them and are mainly known for metal. That's where a lot of their popularity amongst guitarists comes from.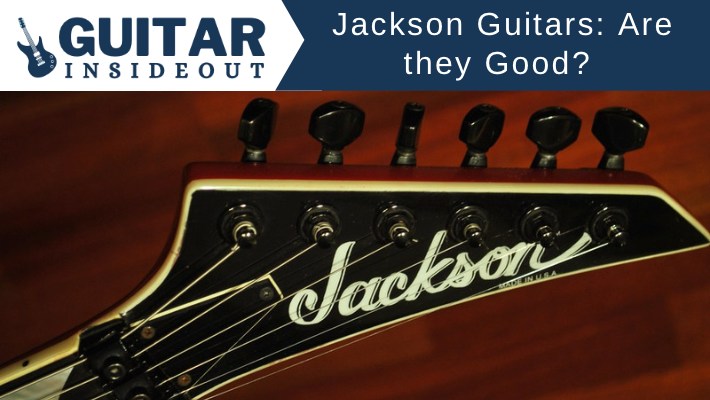 Let's take a closer look at Jackson guitars – where they're made, how they sound and whether they're good for beginners and experienced guitarists alike.
Who Owns Jackson Guitars
Fender owns Jackson guitars. They bought Jackson in 2002. After Grover Jackson became a partner and then full owner of Charvel Guitars in 1978 he was approached by Randy Rhoads in 1980 to build a very specific guitar with customizations made for him. When the guitar was finished it was so different to anything Charvel produced that Jackson decided to brand it under a new name – choosing his own surname. Jackson guitars were born.
By 1983 Jackson had a full range of guitars albeit fairly similar to Charvel. In the mid 1980's Grover Jackson sold both Jackson and Charvel to IMC – International Music Company. Jackson continued to grow under IMC and became the focus of the higher end guitars with Charvel mainly focusing on the entry level models. This resulted in Jackson's contented success and Charvel's decline.
Then in 2002 Fender purchased Jackson from IMC and are the current owners of both Jackson and Charvel guitars, having helped revive the latter.
Where are Jackson Guitars Made
Jackson guitars are made in America, Japan, Indonesia and China. After Fender bought Jackson they moved the production of the guitars to their Corona and Ensenada facilities. More recently they've made the MJ Series in Japan, which aims to replicate the highly regard Jackson's that were made in Japan in the 90's.
However their budget and entry level guitars are made in both China and Indonesia.
For example the cheaper and popular JS Series is made in China and the X series in Indonesia. Whereas the Custom Shop and USA series are made (unsurprisingly) in the USA and the MJ series are made in Japan.
Which Artists Play Jackson Guitars
There are quite a few very famous guitarists that play Jackson guitars and are mainly favored by metal guitarists. These are just some of the most well known Jackson electric guitar players:
Adrian Smith of Iron Maiden
Mick Thomson of Slipknot
Corey Beaulieu of Trivium
Scott Ian of Anthrax
Phil Collen of Def Leppard
Phil Demnel of Machine Head
Christian Andreu of Gojira
Mark Morton of Lamb of God
Chris Beattie of Hatebreed
Dave Ellefson of Megadeth
Misha Mansoor of Periphery
Rob Caggiano of Volbeat
Wes Borland of Limp Bizkit
Andreas Kisser of Sepultura
Derek Miller of Sleigh Bells
Jordan Ziff of Ratt
Jake Kiley of Strung Out
Jeff Loomis of Arch Enemy
"Jackson sent me a prototype to try out. I got it out of the box and played it for about three years. That was my main guitar. I said I just like the way it is. It's the quality of the workmanship." – Adrian Smith on his Jackson signature model
As you can see it's almost entirely guitarists playing heavy types of music that choose Jacksons. So if you're playing hard rock or a genre of metal then you should definitely be considering a Jackson.
What are Jackson Guitars Good for?
Jackson guitars are mainly good for metal and heavy or hard rock. Their pickups are suitable for heavier styles of music and their necks are good for playing technical and fast.
That doesn't mean you can't play other styles of music on a Jackson guitar. But it's no surprise that they are favored by metal and rock musicians as that's who they are primarily aimed at.
Do Jackson Make Good Quality Guitars?
As a long established brand and having made guitars for decades that have served many guitarists well there's no doubt Jackson produce good guitars. Whilst they may not have the reputation of a Gibson or Fender that doesn't mean their quality is any poorer.
In fact their high end models are played by some of the most famous and highly regard guitarists in the world. It's only because they have become so synonymous with metal that they don't get as much recognition as some of the other leading guitars.
But you can be assured if you buy a Jackson it will be just as good as many of its competitors.
Do Jackson Guitars Have Good Quality Hardware?
Tuners
Almost all Jackson guitars use the same Gotoh style die-cast tuners. So regardless of the model of guitar you get you should get the same tuners.
These aren't the best set of tuners you'll find but they will undoubtedly do the job.
Nut
Most lower end guitars have a simple plastic nut and Jackson's are no exceptions. They will get the job done which is the main thing.
Many of the higher end Jackson's use Floyd Rose locking nuts. These are steel and quality made and will keep strings in tune even when doing bends or dive bombs.
Bridge
Lower end Jackson's like the JS22 has a cheaper fulcrum bridge. This will be seen across most of their cheaper models.
Many of the higher end Jackson's have a Floyd Rose original double-locking two-point tremolo, others have a fixed Tune-O-Matic bridge.
Some people hate Floyd Rose bridges because they are trickier to retune so Jackson offer fixed bridge alternatives in some ranges.
Pickups
Jackson guitars use EMG, Humbucker and single coil pickups with the first 2 more common than the latter. As they are designed with metal and rock guitarists in mind it's no surprise to see higher output pickups being more popular.
Electronics
As is so often the case the cheaper the guitar the less quality the parts. This applies to the electronics too.
You may find the volume and tone pots are a little rough to turn and feel cheap and plastic. The taper of the pots won't be great either, with the transition of the volume not being very smooth.
The pick-up selector switch may be a bit clunky. Unfortunately you can't expect more than the basics when at the lower end of the scale.
What Woods do they Use
As Jackson produce both high end and entry level guitars it means they use different quality woods for both. This isn't too much of an issue as the cheaper woods don't necessarily sound worse they just don't look quite as good as the more expensive, visually appeasing woods.
When it comes to sound most people can't tell the difference between guitars made from different woods, so a guitar made from cheaper woods isn't a massive issue. It just means if you get a more affordable Jackson it may not look as pretty or cool as the more expensive ones!
Jackson regularly use Alder, Mahogany and Basswood for its higher end guitars like the Dinky and Soloist. Entry level and more affordable ranges are made from Indian Cedro wood.
The USA, Pro and MK series of Jackson Dinky's all have alder bodies, whereas the archtop X series has a basswood body. The USA made Soloists all have alder bodies too.
Jackson necks are generally maple or mahogany on all models. Fretboards are a variety of ebony, rosewood and maple.
Some models have a wood veneer finish, a thin layer of wood laminated on top of the body. For example the Dinky MG Series has a Flame Maple veneer top on on some later models.
Are Jackson Guitars Finishes Good
All Jackson guitars will have a fairly good finish but how good will depend on the model. It's no shock that the more money you spend on a guitar the better it will be, and this applies to the finish as well.
The Body
If you spend big and get a Jackson made in the USA or Japan then you can feel confident it will have been thoroughly checked for any problems. There should be no issues with the finish and if there were you would be justified in returning your guitar and getting a replacement.
But the lower range models may have some discrepancies in quality. It's difficult to expect perfection in a series of guitars that come off of a production line.
That's not to say you'll be getting a guitar with huge scratches or cracks. But there could be small scratches in some places or blemishes.
The Fretboard
It's the fretboard where if you're going to find any issues it'll be here. This is even more true of more cheaply made guitars.
High or uneven frets are not uncommon. Sharp fret edges are also an issue many production line guitars face. Jackson's entry level models will have similar issues but that shouldn't necessarily deter you.
These problems shouldn't be present with the more expensive ranges as the quality control is usually much better. There is much greater attention paid to the little details that mass produced guitars just don't get.
The best way to avoid any of the issues with high frets or action is to pay for a guitar tech or luthier to set it up fully for you. Whilst this will cost more it's worth it as your guitar will be much easier to play and sound much better.
Are Jackson Guitars Only for Metal?
Whilst they are most known for metal Jackson guitars can easily play other styles of music. It's the amp you play the guitar through and the pickups that guitar has that influence the sound more than anything.
So a Jackson with versatile pickups played through a good Fender amp will comfortably get great clean tones suitable for styles of music other than metal.
EMG pickups are common in Jackson's and are used almost universally for metal. If your guitar or the guitar you're considering has EMG pickups then that may make it a little more difficult to play other styles of music apart from metal.
Are Jackson Guitars Good for Beginners?
Yes, they make some fantastic entry level guitars for beginners. Especially if you are interested in heavy music then a Jackson would be a great choice. Their models aimed at beginners are affordable, well made guitars that would serve those new to playing the guitar well for years.
Best Jackson Guitar for Beginners
Archtop Dinky Double Cutaway Body
1pc. Maple Speed Neck and a Compound Radius (12″-16″) Fretboard with 24 Jumbo Frets
Jackson High Output Humbucking Bridge and Neck Pickups
Black Hardware Includes a 2-Point Synchronized Fulcrum Tremolo and Jackson Sealed Die-Cast
The Jackson JS22 Dinky is the perfect first guitar for those who are just starting out. In fact any guitar within the Jackson JS series would be ideal for a beginner.
The JS range, specifically the JS22, is an entry level guitar which means it's much more affordable than many of the other Jackson guitars. Whilst the affordable price means cheaper materials are used in some areas – hardware, wood etc. – this is the same across all guitar brands and their entry ranges.
It certainly shouldn't put you off. In the past cheap guitars were pretty dreadful but nowadays many affordably priced guitars are able to compete with the more expensive options and the Jackson JS series is no different.
What you will get with the JS22 is a well made, guitar that both looks great and is easy to play.
The Jackson necks are slim and comfortable for playing both chords and faster licks. Comfort is important for those new to playing guitar and both the necks and body shape of the JS22 will make playing smooth and easy.
The jumbo frets also help with those getting familiar with how to play. The larger area for where you place your fingers makes the early days of forming chords that little bit simpler.
The pickups offer good dynamics and responsive tones for many different styles of music.
If you're a big rock and metal fan and want to start playing the guitar then the Jackson JS22 is a brilliant first guitar to get you started shredding!
Dinky Arch Top Body w/1pc. Bolt-On Maple Neck w/Graphite Reinforcement and Scarf Joint
25.5″ Scale Length; 12″-16″ Compound Radius Amaranth Fingerboard w/24 Jumbo Frets and Pearloid Sharkfin Inlays
Jackson High-Output Humbucking Pickups with 3-Position Blade, Master Vol, Master Tone
Jackson Sealed Die-Cast Tuners, Floyd Rose Licensed Jackson Double Locking Tremolo, and Jackson Floyd Rose Nut
For an upgrade on the JS22 then the Jackson JS32 is a slightly improved version. Whilst the differences aren't many in number they are fairly significant.
The main differences between the two is the price, of course, but also the bridge and the top material.
The bridge is the more important of the two from a playability point of view. The JS22 has a tremolo bridge and the JS32 has a Tune-o-Matic bridge. Whilst the tremolo is good for metal, allowing some cool techniques like dive bombs, the fixed Tube-o-Matic is a simpler bridge to use.
The other difference is the top material – the JS22 has a maple top and the JS32 has a quilted maple. Aside from the looks this makes it slightly more robust.
Overall the JS32 is a little better than the JS22 and that is reflected in the increase in price. If you can stretch to it then you are rewarded with a very solid and good guitar for the money.
So, are Jackson Guitars Good?
Whilst they aren't as revered as their contemporaries like Fender, Gibson or Ibanez that doesn't make Jackson guitars any poorer. In fact across the board, from their entry level models to the Custom Shop, they are just as good as the bigger boys.
If you're looking for a quality, well made guitar that is exceptionally good for hard rock and metal then you aren't going to find better than Jackson.