A fundamental part of a guitar are its frets. If you're not sure what the frets on a guitar are they're actually the the strips of metal along the neck, also known as 'fretbars'. They are what determines the pitch of the note(s) that is produced when you play the guitar – that is plucking or strumming the string or strings.
Whilst frets aren't unique to guitars many other stringed instruments, like violins and cellos, don't have frets. But on a guitar they're essential for generating sound and knowing where to play to get the desired note/pitch.
So they're pretty important. But how many frets does a guitar have? And is the number of frets standard across all guitars or does it differ depending on the type of guitar?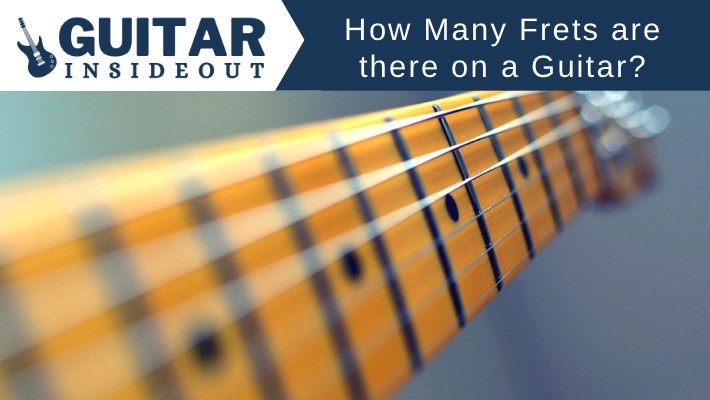 Well let's dive into frets and take a look at the numbers on guitars as well as a brief overview of what they do and how they work.
How Many Frets Does a Guitar Have?
As is so often the case: it depends. Acoustic and electric guitars both have different numbers of frets, with acoustics generally being lower than electrics.
For the most part acoustic guitars will have between 19 and 24 with the most common number being 20 frets. Electric guitars however will mostly have between 21 and 24 frets.
But then the type of guitar will also differ in how many frets it has. For example basically every Les Paul has 22 frets whereas Fender Stratocaster's come in 21 and 22 fret models. And many Ibanez's and PRS's have 24 frets!
So whilst the most usual number of frets on an electric guitar is 22, you can see it depends entirely on which guitar. Different styles of music need different things so guitars have been made with varying numbers of frets to cater to those needs.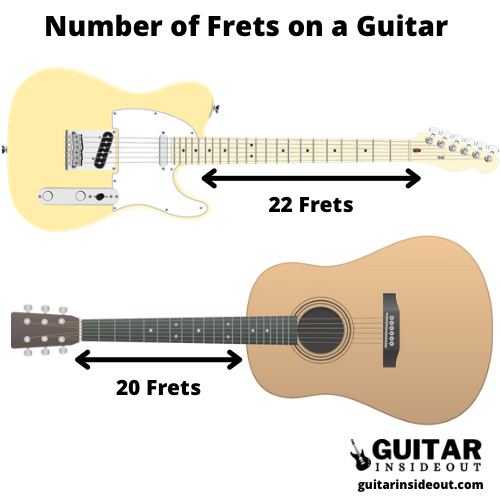 Electric Guitar Fret Numbers
Electric guitars most usually have 22 or 24 frets. 21 fret guitars are also commonly found, most notably some Fender Stratocasters.
The majority of Fender and Gibson guitars, probably the two most famous guitar brands, have 22 frets.
Some well known examples:
Certain models of Fender Stratocaster's – 21 frets, others 22 frets
Fender Musicmaster and Duo Sonic were originally 21 frets but are now 22 frets
Fender Jazzmaster, Mustang and Jaguar – 22 frets
Gibson SG – 22 frets
Gibson Les Paul Standard, Studio, Junior etc – all 22 frets
PRS Custom 24 – 24 frets
Ibanez RG550 – 24 frets
Jackson Dinky – 24 frets
Ibanez RG550XH – 30 frets
Washburn EC36 – 36 frets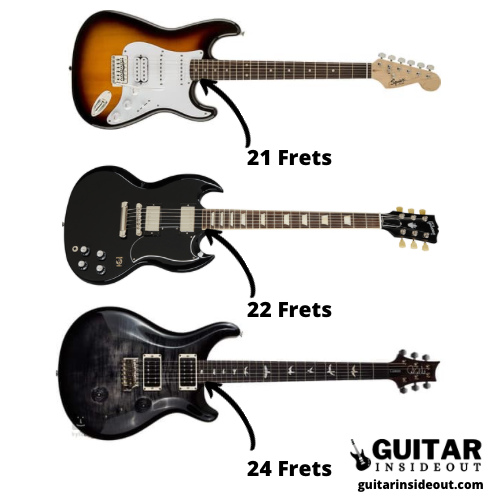 Acoustic Guitar Fret Numbers
So, how many frets does an acoustic guitar have? As mentioned earlier the number of frets on an acoustic guitar is usually lower than an electric guitar. We'll look at why this is a little further down.
There are a lot of different types of acoustic guitars though and they all have varying numbers of frets. The most common of acoustic guitars, the steel stringed, usually has 18 to 20 frets.
Classical acoustics will mostly have 19 frets, as do flamenco guitars.
Some acoustic guitars are referred to as 12 or 14 feet guitars even though they have significantly more frets than that. This is in reference to the point where the neck of the guitar meets the body. So when you see a guitar called a '12 fret guitar' that means it's neck meets its body at the 12th fret, not that it only has 12 frets.
Some good examples of the different acoustic guitar fret numbers:
Taylor 312ce-N Grand Concert – 17 frets
Gretsch G9500 Jim Dandy Parlor – 18 frets
Yamaha CG142 Classical – 19 frets
Martin D-35 – 20 frets
Little Martin LX1E – 20 frets
Why do Acoustic Guitars Have Fewer Frets than Electric Guitars?
There's a few reasons for acoustic guitars having fewer frets than electric guitars. As the body of an acoustic guitar is much larger than an electric it makes reaching and playing those higher frets far more difficult. If you can't play them then there isn't much point in having them there.
The way that acoustic guitars are made means when the strings are played on the upper frets they don't vibrate as much due to their shorter length. This affects the sound and makes it much less resonant.
Also the type of music played on acoustic guitars doesn't need those higher frets. Acoustic guitars are more suited to chords and fingerpicking, which don't move past the 12 fret very often. Whereas many styles of music that are played on the electric guitar utilize the higher frets.
Guitar solos are a good example. You don't really get those big, fast guitar solos that are associated with electric guitars played on the acoustic. It just wouldn't work. And a lot of guitar solos go past the 12th fret and right up to the 18th, 19th or 20th frets and even higher.
What are Guitar Frets?
The frets on a guitar are the raised, metal bars along the neck. They create spaces for your fingers to be placed where you press the strings. The frets are what change the pitches of the sound that is made when you pluck or strum the strings.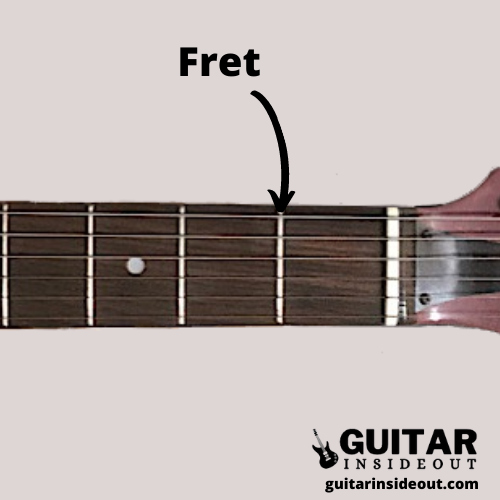 How do Frets Work?
When you press or hold down a guitar string that string then rests against the fretbar where your fingers are 'fretting'. When you do this you are effectively shortening the length of the string, depending on where on the guitar neck you are holding down the string.
Now if you strum or pluck the string it vibrates. That's what causes the sound. And if you are holding down a fret you've shortened how much of the string vibrates, which affects the pitch. If you fret higher up the neck (towards the body) then a shorter amount string vibrates which creates a higher pitch, and the lower down the neck you fret the lower the pitch.
Does it Matter How Many Frets a Guitar Has?
The number of frets on a guitar affects the way it sounds and the playability of it. A 22 fret electric guitar has a much thicker and warmer sound because of the way it is constructed. 22 fret guitars have a shorter neck, with the 2 pickups – bridge and neck – further apart. This makes the neck pickup nearer to the nut of the guitar, which affects the tone and gives it that warmer sound.
But if you are looking to play metal, for example, you will probably want a 24 fret guitar (at least). Metal as a genre of music is far more likely to need to use those higher frets than if you were playing something like country music. So in that instance a 24 fret guitar is preferable.
You also will find that the way 24 fret guitars are designed you get much better access to those higher frets.
Why Don't More Guitars Have 24 Frets?
It's all about preference. On a 21 or 22 fret guitar you have the neck pickup where the 24th fret would be. A lot of people really love the sound that pickup gives them and when it's moved on a 24 fret guitar they miss it.
For a lot of guitarists they just don't need the higher frets either. There are lots of genres and styles of music that will never use anything above the 20th fret so having 24 is just unnecessary.
So there are guitars to cater for everyone. If you prefer 24 frets you can easily get a guitar that has that many and if you prefer 21 or 22 frets there are lots of options too.
Why do Some Guitars Only Have 21 Frets
Originally when Leo Fender was trying to mass produce Fender guitars 21 fret necks were far quicker to assemble. So 21 fret Fender guitars became the norm.
In the 80's more and more artists began playing guitars with 22 frets and Fender decided to move away from the traditional 21. Now they do some models with 21 frets and many with 22.
Conclusion
So, you should now know that guitars have somewhere between 19-24 frets. Acoustic guitars mainly have fewer frets, mostly 18 to 20, and electric guitars have more, usually 21 to 24 frets. It does depend on the model of guitar though, as different styles and brands vary in the number of frets.