Squier and Epiphone are two of the most popular entry level guitar brands. They cater for beginners with affordable guitars but also have models that appeal to intermediate players.
Having owned guitars by both Squier and Epiphone and played many more I feel well placed to compare them. I'll look at their history, how they sound, feel, their respective ranges and more.
So let's get into it!
The Main Differences Between Squier vs Epiphone
Squier guitars are mainly designed to replicate Fender's iconic models like the Stratocaster and Telecaster. Epiphone guitars are known for their replicas of Gibson's classic designs like the Les Paul and SG but also produce their own unique models.
Squier guitars are usually entry-level and so made with more affordable materials and parts with the quality varying across models. Epiphone guitars are built with varying degrees of craftsmanship and quality, ranging from entry-level models to higher-end offerings. The higher-tier Epiphone's often feature improved materials, pickups and hardware.
Squier guitars are primarily manufactured in Asia while Epiphone guitars are manufactured in various locations including Asia but also the United States, depending on the model.
Squier guitars cater to beginner and intermediate players seeking budget-friendly options while still maintaining a recognizable brand affiliation with Fender. Epiphone guitars span a broader price range offering options for beginners as well as intermediate and advanced players.
The Ranges
Squier and Epiphone both have a big range of guitar models. Let's take a look at the current ranges for both.
Squier
Squier has many different series that come under the brand:
Bullet
Affinity
Sonic
Contemporary
Paranormal
Classic Vibe
These different series vary in price and the models available within each of them. Most feature a Stratocaster and Telecaster but the Mustang, Jaguar, Jazzmaster etc vary depending on the series.
Bullet Series
The Bullet Series of Squier guitars is their most affordable range. It's the cheapest and very much intended for beginner players. You can get a Bullet Stratocaster, Telecaster and Mustang.
Affinity Series
The Affinity Series marks a small increase from the Bullet. Although still firmly an affordable option for beginners. The Affinity is also the biggest seller in Squiers range.
Many guitarists first guitars was an Affinity Squier, myself included.
The Affinity series has Stratocasters, Telecasters, Jazzmasters and more.

There is even a range of Affinity basses that are perfect if you're thinking of taking up the bass guitar.
Sonic Series
The Squier Sonic is the most recent series to be released, debuting in April 2023. It's the successor to the widely successful Bullet series.
The Sonic range will be similar to the Bullet in terms of price and models available. There are several variations of Stratocaster, a Telecaster, Mustang and Esquire. All with some snazzy new finishes.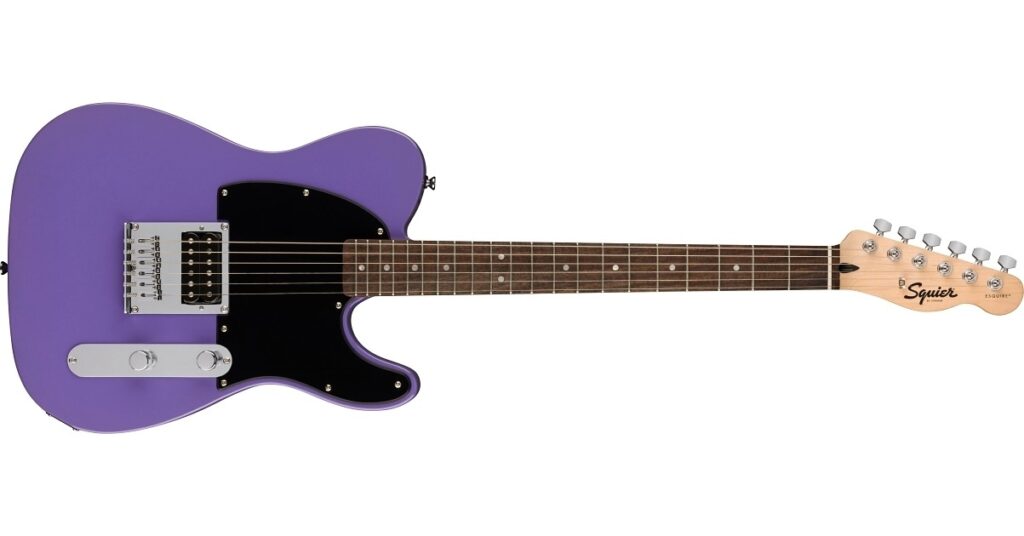 Contemporary Series
The Contemporary series is one of Squiers newest ranges and is a modern take on some of Fenders classic designs. The features and hardware used is a step up from the Bullet and Affinity series although that is reflected in the higher price.
There is a good range from Telecasters and Stratocasters to Starcasters and Jazzmasters, as well as Jazz basses.

Paranormal Series
The Paranormal Series is a really unique and odd mix of new types of guitars. Nothing like any of the other series the Paranormals are either reimaginations of older guitars or completely new creations. The Toronado, as an example, was an older Fender but has been reimagined as an affordable Squier. There is also the Super Sonic, Cyclone, Cabronita Thinline and more.
Classic Vibe Series
The Classic Vibe Series is based on vintage Fenders with period appropriate hardware and vintage voiced pickups. They're arguably the best of the Squier range and a real bargain.
Considering their price you get a high quality guitar that can easily hold it's own against Fender models.
The range features the most well known of Fenders guitars, from Stratocasters and Telecasters to Jaguars and Mustangs.
Basses feature too with the Jazz Bass, P-Bass and a 50's Telecaster Bass all part of the Classic Vibe Series.
See this guide for the differences between the 50's, 60's and 70's versions of Classic Vibe Squiers.
Epiphone
Epiphone also have a wide range of models and series. Like Squiers they are based on their parent company, in this case Gibson.
So most Epiphones are more affordable versions of Gibson classic models. Epiphone however do produce some of their own unique guitars, unlike Squier.
The current range is:
Les Paul Series
SG Series
ES Series
Dot Series
Flying V Series
Explorer Series
Other Models
Les Paul Series
The Les Paul series is Epiphone's take on the world famous Gibson Les Paul. Whilst not quite up to the same standard as Gibson when it comes the hardware and pickups used the Epiphone represents a great take on the iconic Les Paul.
You can get Epiphone versions of most Les Paul's: Standard, Custom, Studio, Classic etc.
The price difference is also significant as Gibson Les Paul's are not cheap! Epiphone models are a great way to get a feel for the Gibson body and sound without having to spend so much.
SG Series
The Epiphone SG resemble the Gibson SG and do a good job of giving you a taste of the SG's bite for an affordable price.
There's also the SG Special, with a simpler design and more affordable price point, and SG Muse which is a more modern take on the SG.
ES Series
The ES series is Epiphone's take on the classic Gibson semi-hollow body design. Unlike the Epiphone Dot, which we'll cover below, it's less of an entry-level type of guitar but just a more affordable version of the iconic Gibson.
Epiphone do an ES-335, ES-339 and a BB King 'Lucille'.
Dot Series
The Dot series of guitars is Epiphone's version of the Gibson ES-335. It's at the higher end of entry-level guitars so marketed towards beginners. However it was very well received amongst most guitarists and seen as a cheap way to get a semi-hollow body guitar.
There is also a Dot Studio which is a more stripped down version with simplified appointments and finishes.
Flying V Series
If you want one of the distinctive V-shaped guitars but can't afford a fully fledged Gibson then the Epiphone models are the perfect choice. Part of Epiphone's 'Inspired by Gibson' line their Flying V's are great budget versions of the iconic design.
There's also the Flying V Prophecy, a high-performance version with modern features, and the Flying V Korina, based on the ultra-rare original Gibson models from 1958.
Explorer Series
Epiphone's version of the Gibson Explorer, characterized by its angular body shape and typically outfitted with dual humbuckers. There's also the Prophecy Extura, a higher end version with features like Fishman Fluence pickups and a contoured heel for improved upper fret access.
Power Players
The Epiphone Power Players are smaller versions of their guitars. They're made for children or those who want to travel with a smaller electric.
You can get Power Players Les Paul's and SG's.
Other Models
There is also an Epiphone Firebird, based on the Gibson.
But Epiphone don't only do affordable versions of Gibson models. They also produce their own standalone guitars that are iconic in their own right.
Guitars like the Epiphone Casino, a hollow body guitar, became popular in the 1960's when Paul McCartney used one on early Beatles recordings. Subsequently John Lennon and George Harrison also began using Casino's and they've been extremely well regarded and used by famous guitarists ever since.
The Sheraton, Sheraton II and Wildkat are a few more of Epiphone original guitars that are inspired by retro aesthetics.
Where are they Made?
Squier guitars are currently made in China and Indonesia. In the 1980's they were made in Japan and have also been manufactured in Korea and India.
Most Epiphone guitars are made in China, although in the past they were made in Korea and Japan. A few Epiphone models are currently made in the USA: the Casino electric and Texan and Frontier acoustic guitars.
Tone
Comparing the tone between brands can be tricky. Without being able to go through each individual model it makes it difficult. But there are some generalisations you can make about both brands that are true and should help you to see which suits you best.
As there are lots of Squier models it's harder to say specifically what they sound like. Generally though Squiers tend to be better suited for a 'cleaner' tone.
The more traditional Squiers – Stratocasters and Telecasters are known for their single coil pickups and bright tone. Mustangs, Jazzmasters and Jaguars feature P90 or humbucker pickups which are better for higher gain.
But none of those guitars tend to be associated with really heavy styles of music.
A Squier Strat or Tele would be great for pop, blues, jazz, funk etc. The Mustang, Jazzmaster and Jaguar would be good for indie, rock and blues.
As they're based on Gibson's it's no surprise Epiphones produce a thicker, fuller and 'bigger' sound. They generally have more sustain than Squiers too.
I would choose something like an Epiphone Les Paul or SG if I wanted to play straightforward rock.
Squiers aren't brilliant for metal. You can't really get the high output you need for metal from them. Epiphones are better, and something like an Epiphone Explorer would be a good choice.
The ProBucker pickups are good for heavier styles of music, although may still struggle to get a really good modern metal tone.
If you're a beginner then either an Epiphone or Squier will be fine for most styles of music though.
Hardware
Tuners
Depending on the type of Squier the tuners vary. The Classic Vibe and Vintage Modified Squiers have vintage slotted tuners and these are high quality. Basically as good as Fenders and worth the money.
But the cheaper Squiers tend to have sealed or "closed" tuners. These aren't awful but they're definitely worse than the vintage slotted ones. You may find they are a little more difficult to turn.
The tuners on Epiphone guitars also varies depending on the model. The more expensive and higher end use open and sealed tuners with a high gear ratio. Grover and Epiphone vintage deluxe tuners are used the most.
The entry-level Epiphone's tend to have nickel 14:1 ratio tuners. These aren't quite as good as 18:1 ratio, which make tuning slightly easier.
But if you're a beginner and worried about the tuners – don't be. If you're new to the guitar it won't make enough of a difference and unless you get a dodgy one it will play fine.
Nut
Lower end Squiers like the Bullet and Affinity series have synthetic bone, a mix of bone powder and plastic. The Classic Vibe series use bone nuts though, demonstrating their value for money (bone being one of the best types of guitar nut).
Epiphone are very similar. Their lower end guitars have imitation bone and the higher end Epiphone's have bone nuts.
You do find some mid level Epiphone's use GraphTech Tusq nuts, a good alternative to bone, and better than plastic.
Bridge
Squier bridges vary depending on the type. Stratocasters all have 6-saddle vintage-style synchronized tremolo bridge. Bullet Telecasters have a 6-saddle hardtail bridge whereas the Classic Vibe Tele has a 3-saddle vintage-style strings-through-body bridge with chrome barrel saddles.
Epiphone use their standard Tune-O-Matic bridge. This is one of the few areas that lets some Epiphone guitars down.
Whilst the bridge is ok it can have some issues. Tuning stability isn't great and some guitarists look to swap the bridge for a replacement.
The Squier bridges are overall probably a little better. But it also depends on what type of bridge you like.
If you want a tremolo then that's most Epiphones ruled out. Squier Strat's, Jazzmasters, and Jaguars would be your options.
If you want a hardtail then most Epiphones will be fine and Squier Tele's, some Strat's, Mustangs and more are ideal.
Neck
All Squiers have bolt on necks whereas the vast majority of Epiphones will have either set or through necks. Bolt on necks aren't a problem – every Fender has one – but set and through necks have greater sustain.
Bolt on necks are usually cheaper and lack sustain in comparison to others but are easy to replace. Set necks are when the neck is glued to the body and has good sustain. Neck through are when the neck and body are made from one single piece of wood. These are impossible to replace but feature amazing sustain.
The necks on Epiphones are mostly thicker and chunkier. Like Gibson they have 50's and 60's neck with the 50's much fatter and like a 'baseball bat', whereas the 60's neck had a slim taper to it.
Squiers generally have a C shape neck profile, although more recently it's switched to a "modern C". C shaped necks are the most popular due to their comfort and versatility, being suitable for most genres and styles of music and feeling good when you hold them.
As someone with smaller hands I don't have any problems with the Squier C shape. But with the Epiphones I much prefer the slim 60's neck. The 50's baseball bat style neck is too chunky for me.
It's always a good idea to try them out first if you're not sure or worried the neck will be an issue. Necks can vary from model to model a lot, so trying before you buy is important.
Pickups
You can get Squiers with both single coil and humbucker pickups. But the pickups used in Squiers are different to standard Fender pickups.
Sadly the less you pay there have to be areas where the quality isn't as good. In this case the Squier pickups aren't quite as good when it comes to the tone and sound. Although they're still more than good enough.
Epiphones have a range of pickups but the ones to look out for are the Epiphone ProBuckers or Gibson BurstBuckers. The ProBuckers are designed specifically for Eiphone guitars and are based on Gibson humbuckers, resulting in a really great sounding pickup. The BurstBuckers are the ones used in Gibson Les Paul's and reflect that – they sound fantastic.
You'll also find Epiphone guitars with the likes of Seymour Duncan, EMG and more pickups.
Electronics
Like pickups the lower end guitars tend to use lesser quality electronic parts. Both Squier and Epiphone may suffer from volume and tone pots that can feel rough when you turn them.
The taper on the volume and tone pots aren't as smooth either and the pickup selector switches might be a bit awkward too.
The higher end Epiphones will likely avoid these sorts of issues and more options will become available like coil splitting.
These drawbacks may sound bad when written down but the reality is they shouldn't be more than an annoyance. When buying at the lower end you have to accept there will be compromises.
The Finish
Squier guitars will have a good enough finish but as they are the cheaper end of Fenders range you can expect small mistakes to sneak through.
The Body
Squier and Epiphone are both guitars produced on a production line rather than handmade. This means that the quality control isn't quite up to the same standard.
So you may find some slight quality issues. Things like very small scratches or blemishes.
These won't be very noticeable and would require you to look for them rather than them being obvious. Definitely not major huge cracks or marks though – if you get a guitar in that condition it's totally unacceptable and should be returned.
Both Squier and Epiphone come with a polyurethane finish that should protect the guitar.
Fretboard
The fretboard is an area where you can expect to find some quality issues too. Things like uneven or high frets and sharp fret edges.
This will be the case for most Squiers and Epiphones. They use automated fret installations but this again means there isn't the same attention to detail paid when checking for uneven frets etc.
The higher priced Epiphones will probably avoid this because of the Pek process that is used to get perfectly even frets. Plus they should be checked by an actual person before going out.
Who Plays Squier Guitars
There aren't that many famous names using Squiers or that have signature models. But there are a few:
Jack Pearson of The Allman Brothers – plays Squier Affinity and Bullet Stratocasters.
Gary Rossington of Lynyrd Skynyrd played a Squier Strat.
J Mascis of Dinosaur Jr – plays his own signature Squier Jazzmaster.
Jeff Healey – played Squier Strats his entire career.
Joe Trohman of Fall Out Boy – plays his own signature Squier Telecaster.
Pete Wentz of Fall Out Boy – plays a Squier P-Bass.
John Mayall – used a saw down Squier Strat.
Steve Rothery of Marillion – used a modified Squier Strat.
George Harrison – used a Squier Stratocaster live on occasions.
Avril Lavigne – has her own signature Squier Telecaster.
Mike Rutherford of Genesis – played a Squier Bullet Stratocaster on recent Genesis tours.
Who Plays Epiphone Guitars
Epiphone have a richer history when it comes to famous players:
The Beatles are the most well known and used Casino's on many recordings. An Epiphone Casino even became John Lennons main guitar for both recording and playing live thereafter.
Paul McCartney still uses his Texan acoustic when playing Yeterday live to this day.
Other famous Epiphone players include:
Bob Dylan used a variety of acoustic Epiphones.
Pete Doherty uses a Coronet as his main guitar.
The Edge plays a Casino.
Tom DeLonge uses a signature ES-333 in both Epiphone and Gibson versions.
Keith Richards used a Casino throughout the 1960's.
Paul Weller uses a Casino.
Noel Gallagher has used a Sheraton, Riviera, Les Paul as well as his signature model Epiphone Supernova.
John Lee Hooker used a Sheraton and Sheraton II.
Frank Iero of My Chemical Romance used to use an Epiphone Les Paul Elitist Model until created his signature Wilshire Phant-o-matic.
Matt Heafy of Trivium uses a signature Epiphone Les Paul Custom.
Which Are the Best?
Both Squier and Epiphone make some really great guitars. As they're generally aimed at the affordable and beginner market the prices don't differ that much.
Having said that Epiphone do produce some much higher priced and quality guitars that Squier don't. There's no Squier alternative or version of something like a Casino or Flying V Korona.
Those are high priced, top of the range guitars that Squier doesn't ever try to compete with. But if you're a beginner or looking for a second/backup guitar then most of both ranges will be fine.
Epiphone's tend to be more "rock" guitars because they're based on Gibsons. The likes of Explorers, SG's etc. are geared towards somewhat heavier styles of music. So if that's what you're intending on playing then Epiphone may be a better choice.
Squiers though suit a wide range of styles and have more versatility across the entire range. A Stratocaster and Telecaster can do almost everything, Jazzmasters are that little bit different and unique, Mustangs and Jagyars offer short scale alternatives and the Paranormal range are just plain funky!
So the sort of music you like to play is worth considering and will be a part of which is better for you.
And I'm always going to recommend you try a variety of guitars before buying one though. Just so you can to see which feels right.