Punk rock is often associated with non-conformity and rebellion. Rather than a specific guitar for punk many believe that any old guitar will do the job.
However, just like any genre of music certain guitars are better suited to the punk rock sound. In fact some of the best guitars for punk rock may surprise you.
I've played or owned all of the guitars listed here and tried them out specifically for punk. I have experience from playing in punk (or pop-punk, at least!) bands. So I like to think I'm well placed to give some recommendations.
So let's take a look at some of the best punk guitars. From classic models to modern designs there's something for everyone. So grab your leather jacket and let's dive in to find the perfect instrument for your punk rock sound.
How I Chose the Best Guitars for Punk
I love punk and all it's (far too many) sub genres. I grew up listening to pop-punk and hardcore and it's a big reason why I even picked up a guitar.
The bands I played in as a teenager were almost all punk bands of one sort or another. (And they were all embarrassingly terrible, of course!)
So I feel like I have a good understanding of what makes a good guitar for playing punk.
I also made sure to look at the different needs and what would be most important in a punk guitar. So things like:
Different prices and budgets.
The types of punk and guitars to suit them all: pop punk, hardcore, skate punk etc.
Durability, as punk is known for its aggression and intensity, so if you're playing live you want a guitar that can withstand some punishment.
The overall quality and how good they sound.
The choices I've picked come from my direct experience (I've owned most of the guitars listed) as well as reviews from places like Amazon, Sweetwater, Musicians Friend etc.
I wanted a guitar that was suited for punk so I did a good deal of my own research before choosing one. And I've owned lots of guitars generally.
So I feel confident this guide will find you the best electric guitar for punk.
Best Punk Guitar by Category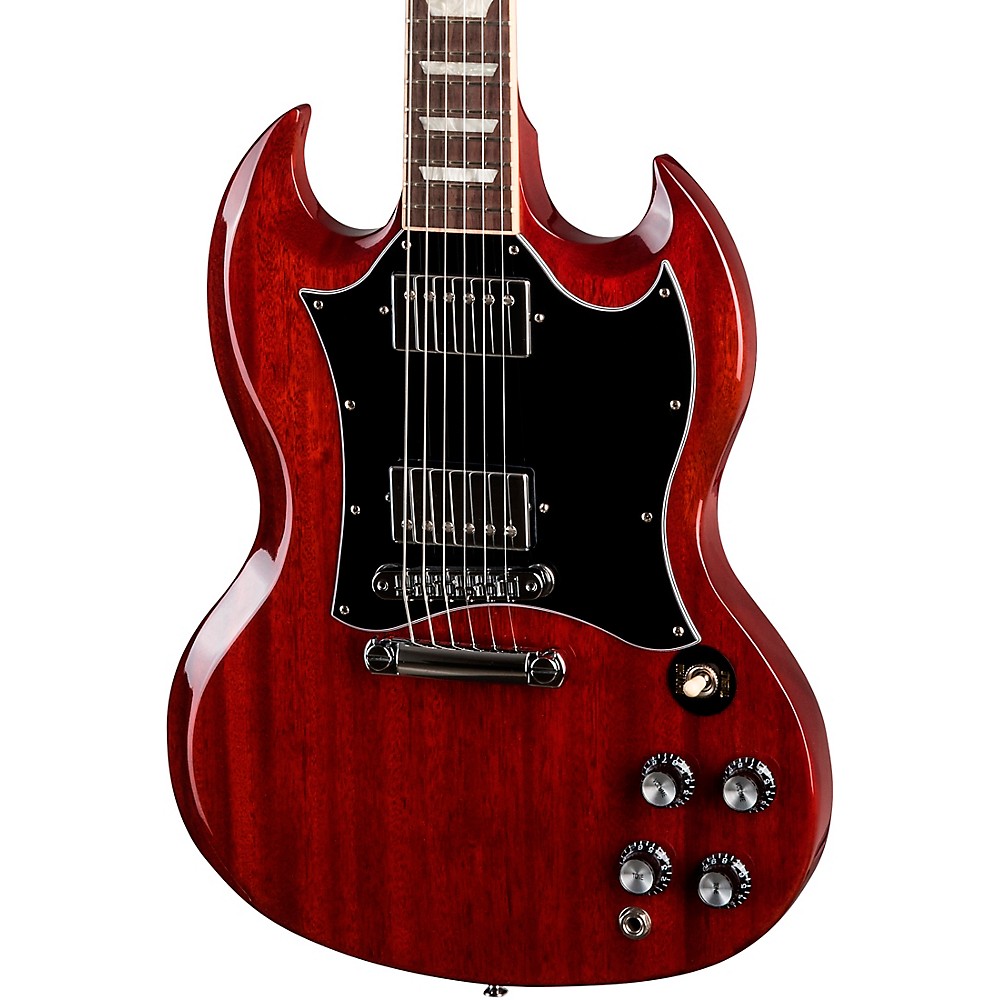 Brand: Gibson
Body: Mahogany
Neck: Mahogany
Fretboard: Rosewood
Frets: 22
Pickups: 2 Humbuckers
Pro's:
Lightweight and comfortable
Amazing gain
Fast neck
Very durable
Con's:
Quite pricey
Prone to neck dive
The Gibson SG is one of the most famous guitars of all time and known for being a staple of rock music. But it's also widely used in punk.
From a hardcore veteran like Ian MacKaye of Minor Threat and Fugazi and Greg Hetson of Bad Religion and Circle Jerks to The Jam's Paul Weller all the way through to more modern guitarists like Billie Joe Armstrong of Green Day and Patrick Stump of Fall Out Boy – they have and do all use SG's.
Why is it such a good choice as a punk guitar? It comes down to things like weight, sound, playability and durability.
Being one of the lightest guitars makes it popular if you're style is high energy when playing live. It makes it a lot easier to move around or jump with a small and light SG as opposed to something like a very heavy Les Paul Standard.
The SG's slim and fast neck suits quick and aggressive playing and the humbuckers or p90 pickups are perfect for higher gain and heavier styles of music.
It's also an amazingly durable guitar. It feels like there are few guitars that can withstand a beating like an SG and carry on without any issues.
It's all of that which makes the SG such a good guitar for punk.
Be warned though, there are quite a few versions of the SG: Standard, Special, Tribute, Custom etc. For punk any of them will do the job, although personally I've always like the Standard the most.
I also like p90's in an SG. It feels like the bite you get from them pairs particularly well with the mid-range snappiness of an SG.
But that's entirely my personal taste. For punk or hardcore either type of pickups will work well.
If your budget is a bit tight then the Epiphone SG is a really great alternative. Definitely one of Epiphone's better models, it may not have quite the same attention to detail as the Gibson version but it's still a top guitar that will sound brilliant for punk.

---
Brand: Fender
Body: Poplar
Neck: Maple
Fretboard: Laurel
Frets: 22
Pickups: 2 Humbuckers
Pro's:
Amazing quality for the affordable price
Great neck for small hands and beginners
Humbucker pickups for distortion and punk sound
Con's:
Synthetic nut
Not as high quality as more expensive options
The Squier Bullet Mustang is arguably the best value guitar you can buy today. It's dirt cheap considering how good it is.
Obviously it isn't going to be able compete with a Fender Custom Shop model or other top of the range guitars. But for the price you get an amazing amount.
If you're a beginner or thinking about learning and punk is what got you interested in the guitar then the Mustang would make a fantastic first axe.
It's small body size and short scale length make it very comfortable and easy to play and the dual humbuckers produce that thick and heavy sound you need for punk.
It's lightweight, looks good and has a lot of versatility.
Mustangs have long been associated with punk bands and artists. From the iconic Kurt Cobain (who rocked a Mustang) to Frank Black from The Pixies and Thurston Moore of Sonic Youth the Mustang has a history of appealing to alternative musicians.
While the Squier Bullet version may not match up to its higher end Fender big brother it's an affordable and versatile option for punk rock guitarists.
---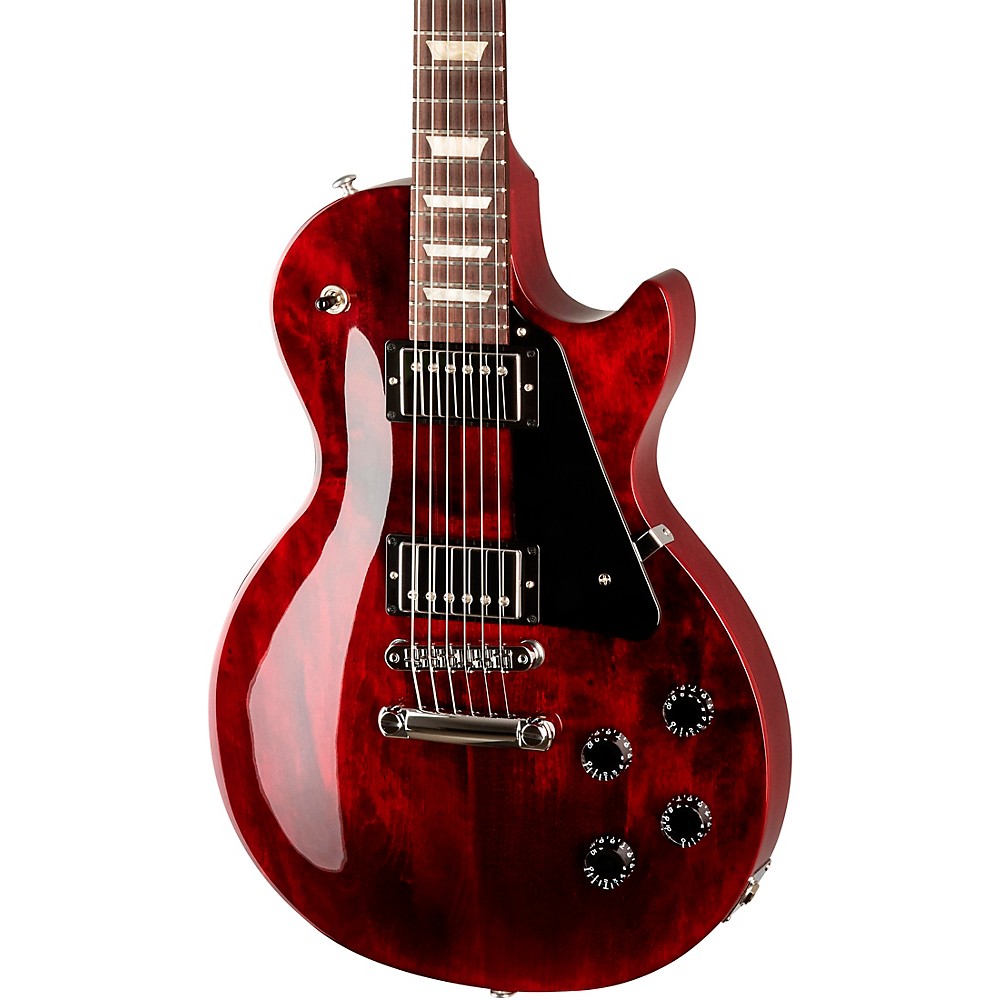 Brand: Gibson
Body: Mapld
Neck: Mahogany
Fretboard: Rosewood
Frets: 22
Pickups: 2 Humbuckers
Pro's:
Legendary Les Paul sound
Tons of sustain
High gain, aggressive pickups
Con's:
Heavy to hold when playing
Boring looks
Gibson's are typical in most types of rock music and punk is no exception. Hardcore punk needs an even more aggressive tone and the regular Les Paul models offer that in spades.
Very few guitars can match the sustain and heaviness Gibsons can offer. So a Les Paul standard would be a good choice for any type of punk. You see them used across pop punk, hardcore etc.
But the Studio offers everything the Standard does for less money. What's not to like?
You get the big, thick sound that only a Gibson can do but without the aesthetic touches that are added to the Standard and increase the price.
The Studio is the stripped down version. The one you use to record with (in the studio, hence the name) before taking the flashier Standard out on tour.
It features a mahogany set neck, two humbuckers and pairs of tone and volume controls.
My first Gibson was a Les Paul Studio and I was impressed. Ultimately I didn't get on with it because of the weight – and that's something to bear in mind, Les Paul's are heavy – but it played and sounded like I'd imagined. They really are quality guitars and sound just as good as the Standard.
---
Brand: Fender
Body: Alder
Neck: Maple
Fretboard: Maple
Frets: 22
Pickups: 2 Single coils
Pro's:
Comfortable to hold and play
Legendary Telecaster tone
Jack of all traits
Con's:
I might be a little biased as my all time favorite guitar is the Telecaster but I maintain there's virtually nothing it can't do. So shove a humbucker in the bridge and it becomes a rock or punk machine!
You don't have to look hard to find punk guitarists who agree with me. Joe Strummer's Tele is legendary, Brian James of The Damned and post-Clash Mick Jones used Tele's. More modern punks like El Hefe of NOFX and Brett Gurewitz of Bad Religion relied on Telecasters.
But pop punk bands absolutely love Tele's. Here's just a few:
Joe Trohman of Fall Out Boy
Alex Gaskarth of All Time Low
Jim Adkins of Jimmy Eat World
Nick Steinborn of The Wonder Years
Justin Pierre of Motion City Soundtrack
Vinnie Accardi of Brand New
Jake Ewald of Modern Baseball
John Nolan of Taking Back Sunday
Those are just a handful of many (and yes, you can argue if all of those bands are considered pop punk) who use Telecasters.
And actually I've said that you need a humbucker but most of those listed above used the standard single coils. So it isn't really a necessity (it just sounds awesome!)
Why does the Telecaster lend itself to punk so well then? It's partly to do with the way a Tele sounds. The brass bridge and pickup create that signature twang that is known from genres like country and rockabilly which while they may not sound it have some big influences over early punk.
Plus Telecasters are bright and have that snap to them when you play which is a better fit with a lot of pop punk than other guitars.
But it's also to do with the Telecasters universality. It's like the Everyman of guitars. It may not be flashy but it gets the job done.
You can modify it easily, swap out necks and pickups, the tuning stability is rock solid. It just won't let you down.
So most Fender Telecasters will make excellent pop punk guitars. The Player Telecaster is a really good compromise in terms of price and quality but the Squier Affinity or Classic Vibe would both be fine choices too depending on your budget.
---
Brand: Fender
Body: Alder
Neck: Maple
Fretboard: Pau Ferro
Frets: 22
Pickups: 2 humbuckers
Pro's:
Very versatile
Distorted sounds great
Looks amazing
Con's:
Awkward bridge
Longer scale length might not suit everyone
It's a little difficult finding the perfect guitar for post punk as there has been such a variation in the guitars used by post-punk bands. But a Jazzmaster is a good starting point.
Post punk bands have tended to favor Fenders, with the offsets like Jazzmasters, Jaguars and Mustangs popular. Outside of those you're looking at some of the lesser known brands like Rickenbacker or Danelectro.
Robert Smith of The Cure is known for using a Jazzmaster, Tom Verlaine of Television the same, Thurston Moore predominately used a Jazzmaster and Mustang and Johnny Marr used a variety of guitars over his multiple bands but is best known for Jaguar's, a Rickenbacker 330 and a Jazzmaster.
Later on as New Wave took over Elvis Costello helped lead a revival of the Jazzmaster and the likes of Kevin Shields from My Bloody Valentine made the Jazzmaster popular amongst shoegaze.
Why the Jazzmaster works so well for post punk is that alongside its versatility it also distorts better than a lot of the alternatives. You can get real sustain and attack from a Jazzmaster as well as some unique tones that other guitars can't quite do.
The scale length also helps. The Jazzmasters 25.5 inch scale means more tension in the strings which in turn created a better low end "thump". If you want a dark and heavy tone then you need a punchy low end and the Jazzmaster does that very well.
The Fender Player Jazzmaster is a lovely guitar but for a more budget friendly option the Squier Classic Vibe Jazzmaster is a wonderful option. All the Classic Vibe range are fantastic value for money and punch well above their weight.
---
Brand: Fender
Body: Ash
Neck: Maple
Fretboard: Indian Laurel
Frets: 22
Pickups: 2 p90's
Pro's:
Lots of sustain
Really punchy p90 pickups
Extremely lightweight
Con's:
Gloss finish on neck can make it sticky
Set neck is awkward to repair
'Emo' as a genre can be hard to pin down. It crosses into pop punk, post hardcore, screamo and everything in between.
Most of the bands I listed above in the pop punk section could easily be seen as emo. But Taking Back Sunday and My Chemical Romance sound very different to Modern Baseball, Touché Amore and The World is a Beautiful Place & I Am No Longer Afraid to Die.
Jim Adkins of Jimmy Eat World is a bit of a legend across this style of music though. Jimmy Eat World began as a fully fledged emo band before their mainstream success and his signature guitar is really interesting and I would say underrated.
Based on the Fender TC 90, a guitar that had a limited run between 2004-2007 and only 1400 were made, it's basically a Les Paul-Telecaster hybrid. If you want a guitar that sounds like a Les Paul but has the weight and comfort of a Telecaster it's hard to beat.
A single cut, semi hollow thinline Telecaster, it features 2 Seymour Duncan pickups, 24.75 inch scale length and 22 medium-jumbo frets.
The p90's are hot and very punchy. You can go from raw and full throated aggression to clean or jangly.
It sounds similar but not quite the same a Les Paul. Quite dark and full of character.
If you want a guitar for emo then the Fender JA 90 might be a slightly left field choice but it's going to give you the tone you want.
---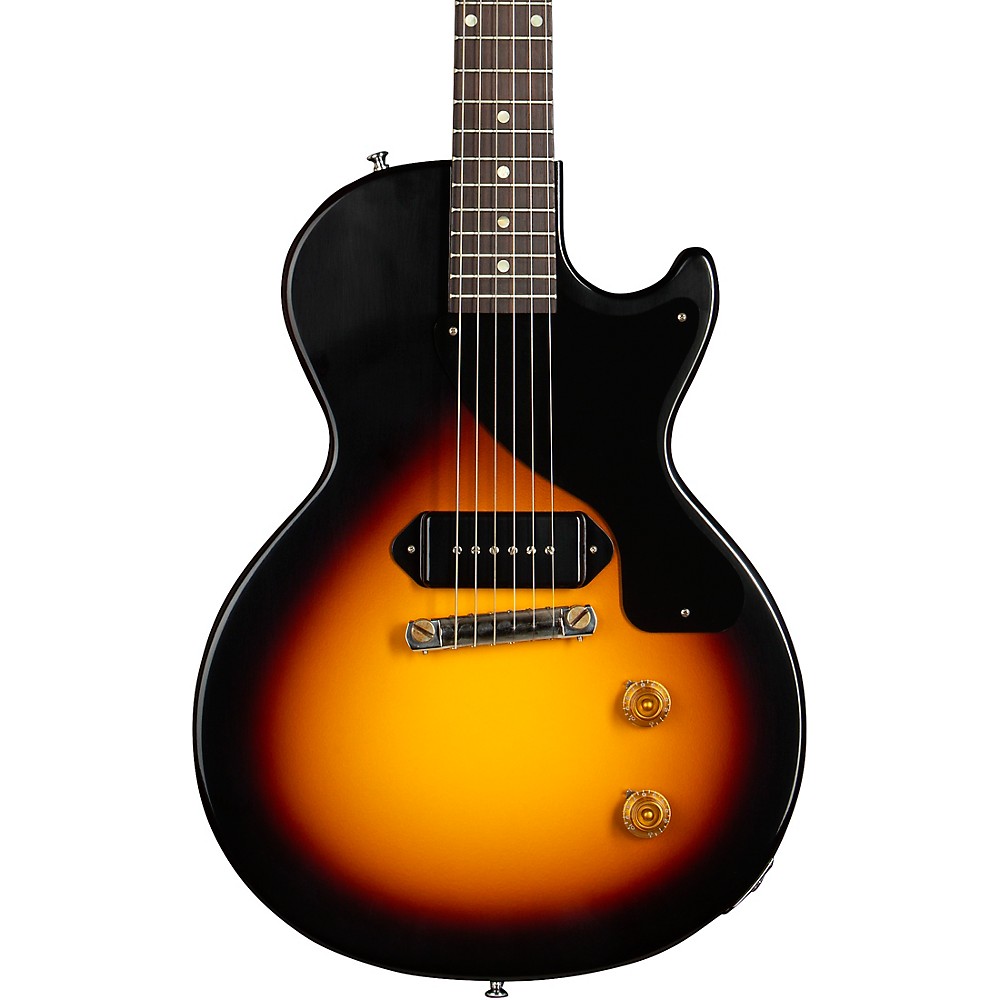 Brand: Gibson
Body: Mahogany
Neck: Mahogany
Fretboard: Rosewood
Frets: 22
Pickups: 1 p90
Pro's:
Classic looks
Straightforward setup for punk
Gibson quality
Con's:
Lacking versatility
Expensive!
A Gibson Les Paul Junior is not cheap. But it is almost as punk as you can get.
For starters it absolutely looks the part. And the simple controls and single p90 pickup goes with the no nonsense and DIY attitude of punk.
You only have to look at the bands who have used Les Paul Juniors – Mick Jones of The Clash, Billie Joe Armstrong of Green Day, Johnny Thunders from New York Dolls, even Chris Cabarra of emo favorites Dashboard Confessional has rocked a Junior.
It's comfortable neck, plek'd frets and hand wired electronics are what sets it apart from a lot of the competition. It's also part of the reason it's so highly priced.
But if you can stretch to it and want a guitar that is an in your face, straightforward punk machine then it's worth the money.
For a more wallet friendly version the Epiphone Les Paul Junior might not be quite as high quality but for the money it's a great deal.
---
Best Guitar for Punk Rock Buying Advice
When choosing an electric guitar for punk there are a couple of things to consider. Firstly – what is your budget.
The guitars I picked above cover a good range of budget options going from the more affordable end to the premium and expensive models. So you should be able to find one that fits within your budget.
You should also consider:
What type of player you are
What type of punk you play
The Type of Player you are
Do you play in a band and are you looking to play live? Are you a beginner who is just starting out? Or is it somewhere in between?
Whichever of those it is will probably determine what sort of guitar you go for. A beginner doesn't have to but may find a more budget friendly option better. Whereas a gigging musician is more likely to be looking at the higher end.
What Type of Punk you Play
If you play pop punk then you will want the best guitar for pop punk, not post-punk. And if you play hardcore you are going to want a hardcore punk guitar not a pop punk one.
So you need to have a clear vision of the type of punk it is that you want to play. If it's not one specific sub genre but all types you're hoping to cover then my overall pick is definitely the best choice.
Other Things to Consider
There are a few more things you might want to think about before making your decision.
Pickups
The types of pickups and pickup configuration will have a big impact on the sound of the guitar.
Humbuckers are probably more common in punk. They tend to be better suited for distortion and higher gain and produce a thicker, more full sound.
Single coils are still used frequently in punk though. Pop punk and classic punk both feature single coil guitars like Telecasters and Les Paul Juniors, mainly because they don't need quite as much gain.
So again the type of punk will be a factor in not only the guitar but also the type of pickups you get.
Scale Length
The scale length affects playability and the tension of the strings. A long scale length keeps the strings tight and makes bends sound better and less likely to slip.
Shorter scale lengths has less tension in the stings and make them somewhat floppy. This can work for some types of music but if you're lowering your tuning then you will find the lack of tension makes the strings too loose.
So for punk a standard or longer scale length is usually better.
Final Verdict
In the end it's going to come down to what style of punk you're playing. And that's why I went for the Gibson SG as the overall best choice.
The SG is a quality guitar and will work for virtually every genre of punk. Pop punk, hardcore, skate punk, post punk and more. An SG won't be out of place in any of those.
And you aren't limited to punk either. An SG is a superb guitar for any type of rock music.
With it's easy to play neck, comfortable body shape and dynamic, big sound you won't regret investing in a Gibson SG.