Finding the best tube amp for home use is, as I'm sure you know, not easy. One of the age old problems when playing the guitar is how to get a great tone at an acceptable volume.
Most of us play and practice at home and so need an amp that isn't going to upset family members, drive the neighbors mad and generally upset anyone within a mile radius. I know all too well how tricky that can be.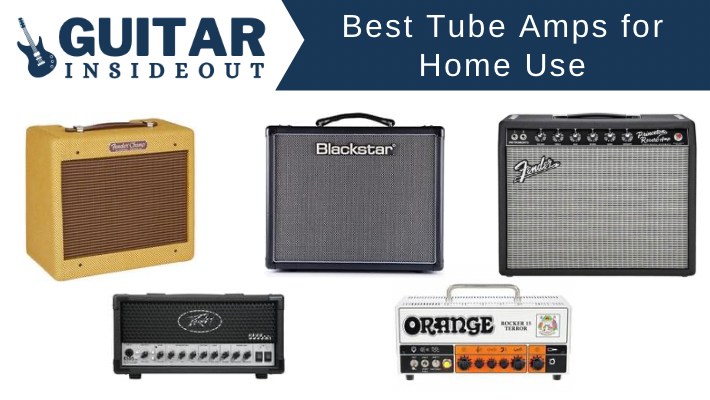 I've spent far too long trying to find an amp that can be played at low levels for comfortable use at home.
It's fairly simple when using a solid state or modelling amp, but getting a tube amp to sound good at the necessary low volume can be tricky. Most tube amps really need to be played loud to sound good.
However, there are some options that can give you what you want – fantastic drive and clean sounds that work well for playing at home. Thankfully not every tube amp needs to be cranked all the way. And with power scaling and built in attenuation becoming more common there are a growing number of options for playing at home with a tube amplifier.
So, let's get into it. My top 7 best tube amps for home use are:
How I Chose the Best Tube Amps for Home Use
I tried to look at all the different requirements you might have for a home tube amp. Sounding good at low volume is obviously key but also things like:
The prices and different budgets everyone has.
Size. Playing at home usually means you want a smaller amp and one that doesn't take up much space.
Types for a variety of musical genres and tones: metal, rock, cleans etc.
The overall tone and how good the amp sounds.
I've taken the reviews from places like Musicians Friend, Amazon, Sweetwater etc. alongside my own experience with finding a small tube amp for using at home.
I spent a long time doing my own research and testing various amps before deciding on one. I actually own two of the amps listed here and have tried various different ones in my own search for a small tube amp to use at home.
I feel confident this guide will get you there. Each of these amps will deliver amazing tone in a small amp that is useable at home.
Best Tube Amps for Home Use by Category
I've broken the choices into different categories to help you decide which will suit you best. Whether you need a certain tone, high gain or cleans or have a small budget then this will cover you.
So let's take a look at the picks:
Type: Tube
Configuration: Combo
Power: 5W
Dimensions: 17.5″ W x 16″ H x 10″ D
Pro's:
Excellent gain and overdrive
Power scaling allows you to drop to 0.5 watts for playing at low volume
Decent built-in reverb
An effects loop
Headphone jack and USB emulated output
Con's:
Average clean channel
Boring design/looks
The Blackstar HT5R MKII is a 5 watt amp that comes in both a combo and head option. It features 2 channels – clean and distortion – an inbuilt reverb, effects loop, headphones out, USB output for recording and more.
It excels more as a higher gain amp. Not necessarily metal (you'll probably need a tube screamer to boost it into metal territory) but more of a straightforward rock amp. So you can go from bluesy rock and crunch through to full on hard rock.
Blackstar amps are designed by some of the people who worked on the Marshall JCM 800. So that gives you an idea of the quality and potentially the sound you're going to get.
5 watts can get very loud but the volume control is decent and doesn't go from whisper quiet to ear shatteringly loud when you breathe on it. But better than that it has a built in attenuator that brings the power down to 0.5w – which is perfect if you need it super quiet.
The drawbacks: well the clean channel is a little uninspiring. That's not to say it's bad just that it is a bit flat. And purely on a personal level I find most Blackstar's boring looking.
Overall the HT5R is a really solid, no nonsense and affordable tube amp that works very well at home. Versatile with lots of different tones available it's a great choice for a first tube amp, downgrading from something much larger or simply a suitable amp for practising at home.
---
Type: Tube
Configuration: Combo
Power: 5W
Dimensions: 14″ H x 14″ W x 8.5″ D
Pro's:
Great price
Brilliant pedal platform
Small and lightweight
Looks fantastic
Con's:
Doesn't do high gain
Stock speaker isn't amazing
The Bugera V5 Infinium is the cheapest amp on this list but don't let that put you off. Considering it's price you get a lot for your money.
It's a 5 watt 1×8 combo that comes with gain, volume, tone and reverb controls. You can drop the wattage down from 5 watts to 1 or 0.1, so lots of options for playing quietly.
You also get a headphone jack and the ability to hook it up to a cab if you want to play gigs. All in all a good range of features for such a small and well priced amp.
It goes from lovely smooth cleans that works nicely for jazz and r&b or funk through to a crunchy drive that is absolutely perfect for classic rock and blues.
I could easily have listed the V5 as the best pedal platform here. If that's what you want in a tube amp but have a limited budget then you'll struggle to find anything better.
The downsides: if you want to play anything remotely higher gain you're going to need pedals. It can't do high gain on its own, at all. If you're a metal player then it's probably best to look elsewhere!
Also the stock speaker is a bit dark. As the V5 is so affordable you could buy a replacement speaker and swap them over though. Very easy to do and will definitely improve how it sounds.
But even with those drawbacks it's hard not to recommend the V5 Infinium. Whilst writing this guide I've found myself looking on eBay to see if there were any 2nd hand ones near me! (I must resist – I really don't need another amp!)
If you want a really affordable, pedal friendly tube amp that's small enough to either sit happily in your bedroom/front room or pick up and take to jam with friends then the Bugera V5 Infinium is ideal.
---
Type: Tube
Configuration: Head
Power: 20W
Dimensions: 14″ W x 7.25″ H x 7.75″ D
Pro's:
Scorching lead tones
2 channels
Small lunchbox head
Effects loop and reverb
Con's:
Only a head, will need a cabinet
Expensive when coupled with buying a cabinet
The Peavey 6505 MH is a 20 watt lunchbox head. It's based on the legendary Peavey 6505, which is one of the most well respected and used amps in the history of heavy and high gain music.
The 6505 MH has 2 channels as well as a 3 band EQ, presence, gain and master volume and an effects loop.
There's also a power soak that lets you switch from 20 down to 5 and 1 watt. This is important as 20 watts is very loud. 1 watt is what makes it much more manageable for playing at home.
Peavey might not be as much of a household name when compared to the likes of Fender, Marshall etc. but that doesn't make them any worse. Especially when it comes to metal and high gain where Peavey have a huge history.
The 6505 MH absolutely rips at high gain. The lead channel will have you shredding for days. It does a great crunch too for more classic rock. The clean channel isn't wonderful but let's be honest, you're not getting this amp for it's cleans!
It was a toss up between the Peavey 6505 MH and ENGL Ironball E606 for best small tube amp for high gain. In the end considering the Ironball is a lot more expensive I think the Peavey is better value.
It's just a beast when it comes to those high gain tones. Want to play any type of metal but at a reasonable volume? The 6505 MH is the amp for you.
---
Type: Tube
Configuration: Combo or Head
Power: 5W
Dimensions: 14.2″ W x 13.4″ H x 8.5″ D
Pro's:
Classic Marshall gain
Surprisingly good cleans
Well priced
Con's:
Lack of bottom end in a small 1×8 combo
We couldn't have a list of top tube amps without a Marshall. And the DSL1 is a perfect solution for those wanting that iconic Marshall tube sound at bedroom volume.
The DSL1 comes as either a 1 watt head or 1×8 combo. It's has the lowest wattage of any amp on this list, although turning up a 1 watt amp will still be very loud if you're playing in an apartment or have sensitive neighbors.
You get the usual bass, middle and treble EQ controls, reverb and 2 channels – ultra gain and classic gain. The classic gain channel only has a volume control but the ultra gain has gain and volume.
The DSL line of amps are well regarded and versatile. You've got a lot of options with the DSL1 – a really nice clean channel, classic crunch for your rock and blues and then tons of gain if you want to push it into metal territory.
You can drop it down from 1 watt to 0.1 for very quiet playing. If you go for the combo then the 1×8 speaker might be a bit small and boxy. But for playing at home and low volume it shouldn't be too much of an issue.
If you're worried about the lack of bottom end from only having 1 watt then the DSL5 is a good step up. You can reduce the watts down to 0.5 from 5 so it should still be fine for lower volume and the combo version comes with a 10″ speaker rather than 8″.
But either way if you like that Marshall sound but need it without upsetting your neighbors then the lower watt DSL's will do the job.
---
Type: Tube
Configuration: Combo
Power: 12W
Dimensions: 19.9″ W x 16″ H x 9.5″ D
Pro's:
Stunning cleans
Takes all pedals very well
Fender sound
Con's:
Very expensive
Too loud to be get natural overdrive
The '65 Princeton Reverb reissue is one of Fender's all time classics. It has an iconic sound that is beloved by so many as well as being used by some of the most famous artists over the decades.
Due to its small size and 10″ speaker (although you can get a 12″ version) the '65 Princeton has been a staple for recording and in studio's.
The cleans from the Princeton are phenomenal. They're synonymous with Fender amps for a reason and if you like them then you'll struggle to find better on any amp.
It's a wonderful pedal platform too and will take almost any pedal without issue. You can use it comfortably for playing at home as long as you get your gain from pedals.
As it's not got a master volume it's going to be far too loud to get any natural breakup and overdrive. But if you're happy with just the cleans from it and using pedals for everything else then it's going to hard to beat.
Sadly like so many of the top of the range Fenders products the '65 Princeton isn't cheap. In fact it's extremely expensive.
If you can afford it though then there's no chance you will be disappointed.
---
Type: Tube
Configuration: Combo
Power: 5W
Dimensions: 13.5″ W x 12.5″ H x 7.6″ D
Pro's:
Legendary amp
Simple and amazing sound
Tweed looks great
Con's:
Limited with just the single control
Expensive for what it is
The Fender Champ may be tiny and diminutive but it's got a rich history. There have been many different versions of the Champ since it was introduced in the 1940's and that continues today. You can get the '57 Custom Champ, Custom 68 Vibro Champ and the solid state Super Champ to name a few.
For a low volume tube amp the '57 Custom and 68 Vibro Champ are both great options. The Vibro Champ has more going on: it's got a 10″ speaker, treble and bass controls, reverb and tremolo controls (speed and intensity). The '57 Custom is bare bones in comparison with nothing more than an 8″ speaker and a single volume control.
Which would be best for you depends on what you want. The simplicity of the '57 Custom is what attracts many. At just 5 watts and with a small 8″ speaker you can turn it up and let it rip for some classic tube overdrive.
The Vibro Champ though gives you far greater control over your tone and sound. The reverb and tremolo are welcome additions.
The '57 Champ will break up earlier and has a quite raw sound. Not a lot of headroom at all. More suited to blues or overdriven rock – there's a reason it's so famous for being used by Eric Clapton when he recorded " Layla".
The Vibro would make a better pedal platform. It's does lovely, glassy Fender cleans and is less raunchy than the '57.
If you want something very small and lightweight and that does the Fender sound then a Champ is a no brainer.
---
Type: Tube
Configuration: Combo
Power: 15W
Dimensions: 18.5″ W x 16.4″ H x 10.24″ D
Pro's:
All round jack of all traits
Fantastic drive channel
Takes pedals well
Good price
Con's:
No EQ on clean channel
No reverb
I'll start by saying I own a Rocker 15. I love it and wrote extensively about it in my review. So I'm slightly biased.
But regardless of my bias I still think it's cracking amp.
You can get it in 1×10 a combo or opt for the Rocker Terror 15, which is the head version. It's a very straightforward no nonsense amp.
Simple controls – volume and gain, middle, bass and treble, with an effects loop and headroom/bedroom switch that lets you drop the watts from 15 to 7 and then 1 to 0.5.
What I like about it is how it's ideal for just plugging in and playing. I don't like too much fiddling about, I simply want to play guitar. With the Rocker 15 I do that.
It's clean channel is slightly odd in that it doesn't have any EQ, only a volume control. It's meant to be a completely natural clean without anything coloring the tone.
Some will find this annoying but I don't have a problem with it. I think it's good enough on its own but if it is an issue then its easily solved by using an EQ pedal.
Being so natural though it makes the clean channel a great pedal platform. But you definitely won't need any pedals for your gain – the rocker has tons on tap and it's awesome.
It has a somewhat vintage feel to it, maybe 70's rock, but you can easily play modern stuff with it too, as I do. It's got loads of gain but you would probably need a tube screamer or boost to get it to do modern metal.
The power scaling works really well. I can play without annoying anyone in the house on the 1 or 0.5 watt 'bedroom' setting and then switch to 7 or 15 watts and crank it a bit when no one's around.
Built in reverb would be nice but I'm happy to use a pedal. It wasn't a dealbreaker for me, your mileage may vary though.
If you want a simple, uncomplicated amp that can take you from smooth cleans to full on rock with everything in between then the Rocker is for you.
Honorable Mentions
Type: Tube
Configuration: Combo
Power: 5W
Dimensions: 15.5″ W x 12.3″ H x 7.5″ D
Pro's:
Fantastic vintage rock sound
Brilliant reverb
Easily controllable volume
Really good looking!
Con's:
Very expensive for a small practice amp
Heavy for it's size
Whilst I couldn't fit the Supro Reverb 64 / 1605R into any of the categories above I didn't want to finish this guide without including it. It's at this point I should mention I also own a Supro 1605R, so again I'm definitely a little biased.
When fairly recently I was deciding on an amp purely for using at home the Supro came up a lot. It ticked most of the boxes I was looking for with it's only drawback being it was really expensive. So I ultimately went for the Orange Rocker 15 (which I'm very happy with!).
About 6 months later though the Supro popped on eBay for half price. Even though I didn't need it I couldn't resist.
Also what's slightly confusing is the fact that originally this amp was called the 'Supro 1605R' and that's the one I have. But it was later rebranded to the 'Supro 64 Reverb', and as far as I can tell they're identical.
What you get is a tiny 1×8 combo with master volume, gain, 3 band EQ (bass, middle and treble) along with spring reverb and three-line output jacks that opens up a huge amount of options.
It's such a brilliant little amp! It sounds fantastic, the reverb is gorgeous and so lush. It's very vintage voiced – you're not going to be getting modern rock sounds out of it. But even as someone who plays far more modern music I still have so much fun with it.
It's got the sort of master volume you want – one that actually has a decent taper to it. So even though it doesn't have any built in attenuation or power scaling it's still excellent for playing quietly.
If you turn it up it gets nice and loud but never ridiculously so. A really great practice or studio amp but you would have trouble gigging with it.
Maybe mic'd for small gigs or using the mix line-out into the front of another amp. It's far more suited for keeping around your home, recording or using in a studio though.
It is oddly heavy though. It's really small so I was expecting it to be a lot lighter. My Rocker 15 is double the size and yet they feel like they weigh roughly the same.
The only real problem it has is the price. I can't really justify it. The Princeton is the only other amp on this list that is more expensive. But that's feel like an entirely different type of amp – very capable of playing gigs and just far more of a all round bit of gear.
The Supro is vey much an amp for the home or studio. When you consider the price in that context it makes it hard to fully recommend.
I do love it though, and it's why I'm mentioning it here. If you don't really have a budget then check it out because it's such a fun and great sounding little amplifier.
---
Best Tube Amps for Home Use Buying Advice
When deciding on your amp there are a few things to think about. Most important – what is you're budget.
The choices I selected above range from budget options through to very expensive. So hopefully you should be able to find something that fits your price range.
You also need to think about:
What type of player you are
What type of sound you want
The Type of Player you are
Are you a beginner or fairly new to the guitar? Are you only looking to play at home? Or would you like the option to play small gigs too?
Depending on how you answer those will shape the sort of amp you go for. Beginners will probably be better if with the smaller and less expensive options. If you want to gig then the higher wattage and larger speakers is are going to be more suitable.
What Type of Sound you want
If you play jazz or only need cleans then the amp you go for is obviously going to be different to those who play metal and heavier music.
So considering the sort of tone you want will help you to Marie your choices down.
Other Things to Consider
Deciding on the right low volume tube amp is tricky and you'll want to get it right. There are a few more considerations.
Combo or Head
A combo or head really comes down to your personal preference.
I find combo's convenient but they limit your options a little. With a head and cabinet you can switch cabinets and speakers easily.
Heads are lighter and easier to transport too. But if you're just looking to play at home then that's less of an issue. Plus most of the amps listed in this guide are fairly small anyway.
They both have their pro's and con's though so it's really all down to whichever you prefer.
Power
For the most part power won't be an issue if you're looking for a small tube amp. By the very nature of being small the wattage will be lower.
But if you plan to play live at all then the more power will help.
Effects
If effects like reverb or tremolo are important to you then you might want to look for an amp with those built in. Many smaller tube amps have reverb at a minimum but if you are happy to use pedals for all or any of your effects then that gives you greater choices.
Final Verdict
Overall the right amp depends on what your needs are. All of the small amplifiers here should do a great job of delivering tube tones at low volume.
But it then comes down to the sort of music you want to play. For high gain then the 6505 MH is the standout, for cleans the Princeton or Vibro Champ and the Bugera V5 comes out on top if you've got a tight budget.
The Blackstar HT5R is probably the best all round though and will cover most bases.