Can a small tube amp really do it all? That's the aim of the Orange Rocker 15, a 15 watt 1×10 combo that has been designed for quiet home practice, use in the studio/rehearsal rooms and small or medium sized gigs. So can it really hope to deliver on all those fronts?
I've owned my Orange Rocker 15 for about 18 months now and was super excited about getting my hands on one. It looked like it would tick pretty much every box I wanted as someone with a bit of experience but realistically was only ever going to be a home player.
Basically could I have a decent tube amp that would give me the option to play at very quiet volumes but still able to crank it when I had the opportunity. Could it do good drive, clean, a working effects loop and be straightforward to use. And could it do all that with minimal compromises elsewhere?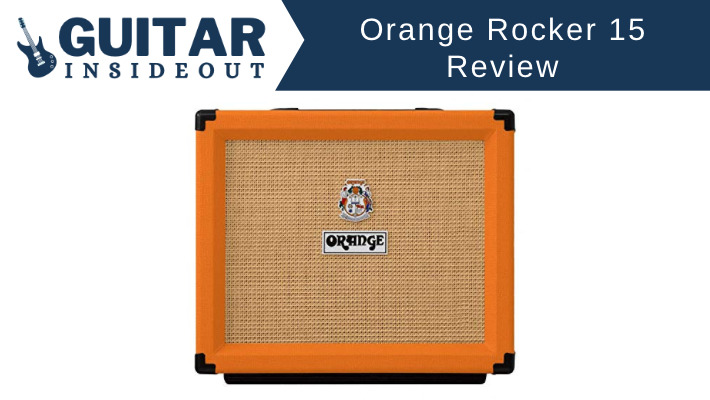 So, after almost 2 years of using my Rocker 15 I feel well placed to give a full review of it. Here I'll look at the design, features, sound and more to give you a full overview of just how good the Rocker 15 is and whether it will be the right choice for you.
The head version of the Rocker 15, the slightly confusingly named
Rocker 15 Terror
, is the same amp. So whilst I will be referring to the combo version throughout, as that's what I own, if you're interested in the head then everything you read will apply as well as they're identical amps.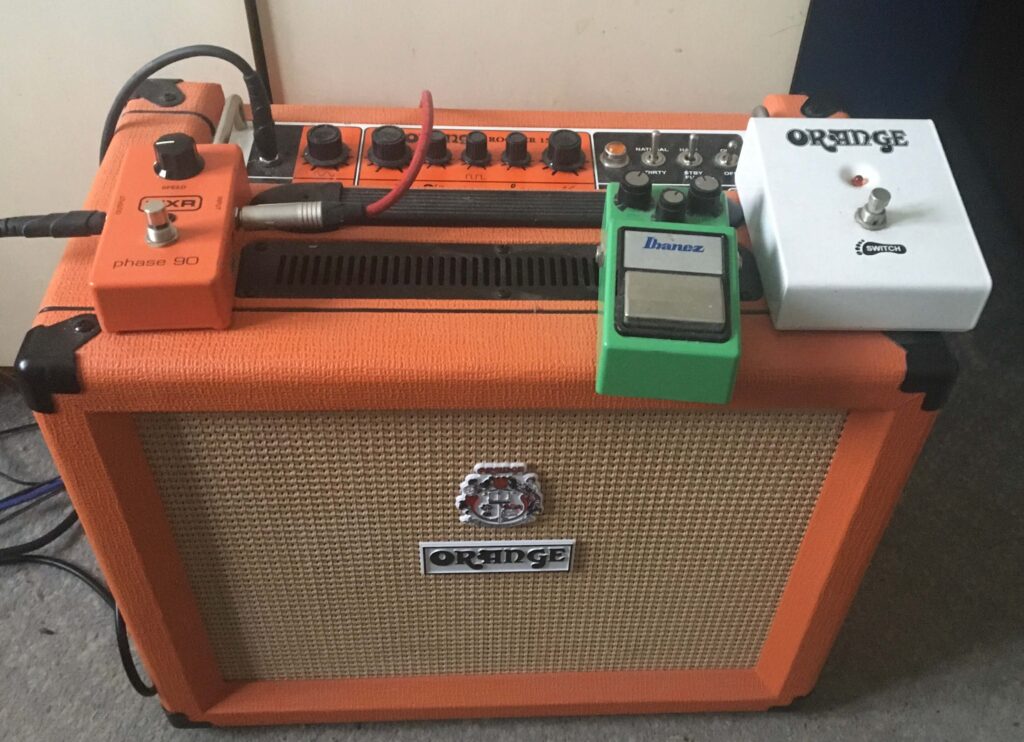 Overview
Orange have been a big player in the world of guitar amplifiers for decades but have had a real resurgence of popularity in the last 10-15 years. You'll see their amps being played all over the place, from the fantastic 'Crush' entry level models that are very popular amongst beginners through to beasts like the Rockerverb being the choice of some of the biggest rock and metal bands on the planet.
The Orange Rocker 15 and it's bigger brother the Rocker 32 were released in 2017 and have in a short space of time become very popular. A follow up to the now discontinued Rocker 30, they were conceived because of the lasting love for the 30 and the desire from customers for a small, 1 watt combo that could be used comfortably at home.
I was also under pressure to make a 1 Watt tube amp so there is a bedroom/headroom switch on the Rocker 15. This not only takes care of the above request, but also means that we are not following what other amp companies have already done – Ade Emsley, Orange Technical Director
Read the entire Orange rundown of the Rocker.
Design
Like most Orange amps it comes in the signature orange tolex and the black alternative. It looks like, well, most of the other amps in the Orange lineup! If you've seen one you've pretty much seen them all.
So it won't be winning any design awards but it's perfectly fine. I've got the orange one and it is fairly bright. I've no problem with it although when a family member saw it for the first time they said the color was "hideous". So I can definitely see the appeal of the black!
The controls are located on top of the amp, rather than the front as with many other combos. I personally prefer this as being a combo it spends most of its time on the floor. So I can easily look down on it and adjust the controls whilst playing. In amps with front facing controls I've found myself having to crouch down to see what I'm doing and it can be a little awkward.
The controls have hieroglyphic symbols to identify each of them rather than labelled by their name. I've found this to be a bit annoying, if I'm honest. It all looks great but as someone who just wants to play it makes it slightly more awkward.
Apparently they're a throwback to the way they did things in the 70's, and whilst you do learn which symbol is which fairly quickly it feels like style over substance and something Orange have included for no real reason. I can't imagine there were customers calling for hieroglyphics over regular name labels, but there we go. Not enough to make me unhappy with the amp but certainly an unnecessary and minor inconvenience.
Another strange choice is the placement of the effects loop socket. In order to use it you have to get around the back of the amp and then the connection is up and under the panelling.
But it's also alongside the speaker outputs which means you're having to crane your head down and under the amp and scrabble to find and see which is the FX loop and which the speaker output. It's a bizarre choice to put it there and makes it really difficult and inaccessible.
Build Quality
The Rocker 15 combo feels solid and well constructed. Sadly it's not handmade and is manufactured in China. Orange preserve the handmade, British manufacturing for their top tier amps.
The internal workings featured a main PCB that houses the valve bases and majority of components whereas a satellite PCB has the FX loop, speaker output and jack for the footswitch.
Overall it's got a tough feeling to it. Like it could and would withstand some rough treatment. I don't think nor have I read anywhere that the build quality is an issue. So I highly doubt it's going to fall apart on you. 18 months later and mine is looking like it's almost brand new out of the box.
For a small combo it's surprisingly heavy though. I am a bit of a weakling so you may find it's not an issue but I was expecting it to be a little lighter. It is, however, going to be easier to move around than bigger combos without a shadow of a doubt. If you're used to lugging a back breaking Vox AC30 or Marshall to gigs or jams then the Rocker is going to feel like a feather! But I wouldn't go as far as to call it "portable". You're not going to be grabbing it with one hand and carrying it like a briefcase.
Seeing as it's primary use is probably going to be the bedroom or studio though then that shouldn't really be a problem.
Features
The Rocker 15 features two channels, 'Natural' and 'Dirty'. The natural is the more interesting on the basis of it having no EQ. There's literally one single volume control and that's it. So it was designed to be entirely neutral in its sound and tone until it's turned up enough for the power stage drive to come into play.
The drive channel is far more normal in that it has the usual 3 band EQ – treble, middle and bass – as well as gain and a master volume. That all acts as you would expect.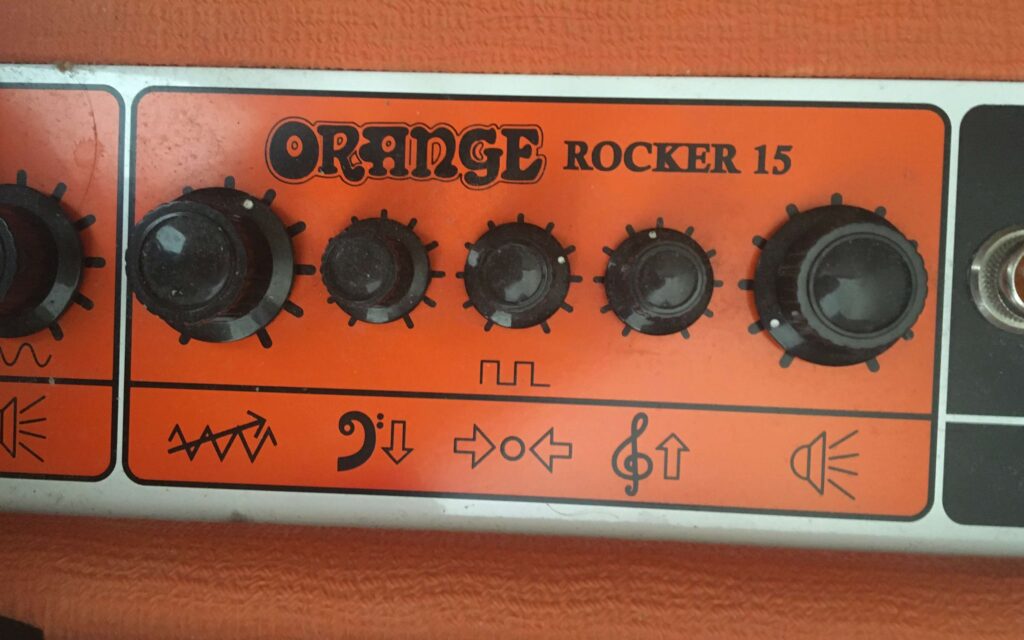 Alongside these controls is the "half" and "full" option, which switches between either 7 and 15 watts when in the 'headroom' mode or 1 and 0.5 watts in 'bedroom'. The headroom/bedroom switch is found at the back of the amp.
Orange have used their 10-inch, 100+ dB 'Voice of the World' speaker in the Rocker 15 and it provides a surprising amount of volume. And there is the series effects loop.
It's far from being the most feature-heavy amp, but that's sort of the point. It's a small and simple 1×10 combo that will take pedals well and give you a decent of amount of versatile tones.
But more importantly – how does it sound?
Performance and Sound
I've used my 3 main guitars – a 2005 Standard Telecaster, 2015 Les Paul Studio and Fender TC-90 – with the Rocker. That covered a wide range of sounds from the single coil Tele, the P90's in the TC90 to the classic humbuckers in the Les Paul.
I'll break it down between the clean and dirty channels and look at how each guitar sounded, as well as how the switching of the power from 15/7 to 1/0.5 watts affects things.
Clean Channel
As I talked about above the clean channel has no EQ, just a volume control. That's obviously going to limit you somewhat. The lack of EQ on the clean means you aren't going to get that sparkling chime you might find elsewhere. It's still nice though; very warm and rich.
Turn it up and you start to get a little grit. It's a nice breakup that matches the dirty channel with the gain rolled back.
With the Telecaster you get a classic bite and twang that sounds very open. Not too brittle or harsh that Tele's can sometimes suffer from.
The Les Paul sounded warm, rich and very big.
Drive Channel
It's the drive channel where I spend more of my time and it really is superb. Going from a very subtle crunch all the way to roaring high gain it's got it all. A really wide range of gain available.
Set it about 1pm, lower the bass and on the bridge pickup of the Les Paul it's a fantastic British rock tone. The chords from 'The Who – Can't Explain' just sounds spot on.
My Les Paul sounds so good through it. The humbuckers sound so chunky and thick. It's lush! Absolute hard and classic rock heaven.
The TC90 is a strange guitar and has a very dark sound whatever it's played through and it's no different with the Rocker. The P90's growl and the overdrive is fierce. Very punchy and big sounding, I adore it through the Rocker.
If you want to play metal you will need a boost/pedal. But whack a tube screamer or OD pedal in front of it and you shouldn't have any troubling pushing it to those metal tones.
Headroom/Bedroom Switch
I imagine the 1 and 0.5 watt switch is a major selling point and draw for a lot people considering the Rocker 15. Being able to practice at acceptable volumes when you have neighbors you don't want to upset is a godsend.
The question is – how well does it work? I'm pleased to say: extremely well!
There is very little tone suck when dropping down from 15 to the lower wattage settings. Obviously you can't expect it to sound exactly the same and you will lose some of that fullness. It's also very quiet in the bedroom mode and completely noise free. No humming or hissing.
It can get a little fizzy when you go to 0.5 watts and really lower the volume but overall Orange have done a great job at with the power scaling.
There's tons of gain on both full and half power mode and you won't struggle to get thick palm mutes or pinch harmonics.
I was amazed when I first tried the bedroom mode on both 1 and 0.5 watts that family members downstairs heard nothing. It's really effective for playing quietly and makes it so flexibile.
Simplicity
One of other positives with the Rocker 15 is it's just very simple. I'm the sort of guitarist who doesn't like to spend long fiddling with and trying to find 'my sound'. I don't mind playing with a few pedals but essentially I just want to play the guitar without any fuss. And that's where the Rocker excels.
For example before getting the Rocker 15 I was considering a couple of Mesa Boogies (the Rectoverb 25 and 5:25). But Mesa Boogies are notorious for being tricky to get the sound you're looking for and need a lot of tweaking and adjusting. Once you've found it then they're incredible. But me, I want to be able to plug in and start playing. No messing around. And that's exactly what the Rocker 15 lets you do.
There's the usual bass, middle and treble controls but that's it. And yes, the clean channel only has that single volume knob which makes it a bit sterile (you can easily shape its sound with a pedal or two though). But if you don't need any of the bells and whistles that many other amps come with, or are intimidated by rows of confusing looking tone controls and just want to turn it on and start playing then you've got to consider the Rocker.
A piece of advice given to those learning to play is always keep your guitar out on a stand as you're far more likely to pick it up and practice if you can see it. I think the same is true for a Rocker 15 – keep one around the house and you're far more likely to switch it on and actually play because of it's simplicity.
Drawbacks
I've touched on a few negatives throughout this review and I'll cover them here more fully. I doubt any amp is 100% perfect and the Rocker 15 has it's drawbacks too.
The positioning of some of the jacks and controls is just plain stupid. Orange have put them in the most difficult place to get to. Trying to find and plug in to the FX loop is ridiculously hard and could easily have been located somewhere more accessible.
As I mentioned earlier the hieroglyphics instead of name labels for the tone controls looks good but is confusing, at first anyway. You do learn and remember what each symbol refers to but it was a bit annoying.
The 'Voice of the World' speaker is better than you may have read elsewhere and definitely not bad. But it still could be a little better.
There's no built in reverb or tremolo. I can live without that but I know for many that's a dealbreaker. A pedal or two is the solution but you may not want the hassle of more pedals, especially if you're travelling or moving the amp around.
As it's common for many amps to have a headphone jack nowadays it's a surprise not to find one on the Rocker. It's something else I can live without and find it easy enough to play at low volumes without annoying anyone else in the house. But I understand others really like having the option to play with headphones and can't work out why something fairly common was omitted in this case.
The Competition
There are a few amps that are similar in terms of size, power and price as the Rocker. Each has their own unique sound and will suit different styles and situations better or worse. I'll look at a few of the main competitors.
Rocker 15 vs 32
You may have considered whether going for the Rocker 32 with its 2×10 speakers will in the long run be the better choice. I've only owned the Rocker 15 so I can't make a direct comparison but I think it comes down to what you want from your amp.
There's no doubt the Rocker 32 will be louder and better suited for bigger gigs. The headroom will be greater, although you don't get much breakup from the 15 either on the clean channel. But with Rocker 32 you lose the headroom/bedroom switch. Instead you can bring it down from 30 to 15 watts, which while useful in some situations is still going to make it very loud for playing at home.
To me the Rocker 32 is designed mainly for playing live. If that's what you want then there's no doubt it'll be better than the 15. But if you are a bedroom warrior like me then the 15 is definitely the way to go.
Orange Rocker 15 vs Blues Jr
The Fender Blues Jr is often talked about as an alternative to the Rocker 15 and I've never been quite sure why. I think it must be for those looking solely for a pedal platform.
In that regard I can see why they might be looked at in the same light. The Blues Jr has lovely cleans (as you would expect from a Fender) and takes pedals very well. The Rockers cleans aren't as sparkly and shimmery but they certainly aren't lacking and it takes pedals just as well as the Jr.
But if you're looking to play with any amount of gain then the Rocker is far, far superior. Orange amps are known for their gain and the Rocker doesn't disappoint, whereas the Blues Junior just doesn't cut it.
That's where the big difference is and why I don't think they should be seen as rival amps. The Rocker is very capable all around, going from warm cleans to full on high gain. The Blues Jr will always hold its own when it comes to cleans but is really not a "rock" amp in any way. Pedal platform maybe, but you're never going to get a Blues Jr for its gain.
The lack of any power scaling options makes the Blues Jr a bit awkward for playing at home too. It's loud, probably too loud, and where the Rocker can drop to its 0.5/1 watt mode you're going to be fighting the master volume to get acceptable volumes for home playing with the Jr.
Orange Rocker 15 vs Vox AC15
The Vox AC15 seems a much closer amp to the Rocker 15 than the Blues Jr. They each have their own sound and are definitely different but I can see why might compare them.
Both are British voiced as well, but the Vox is more like that jangly, early British invasion type of sound and the Rocker more a 70's classic rock vibe.
The Vox's clean channel has a lovely chime to it though. I still prefer the Rocker and feel like it's more versatile than the Vox but it's definitely a good option.
Toby's Guitar Demos did a great video comparing the Rocker 15, Marshall Origin 20, Vox AC15 and Blues Jr. It's a really straight shootout between all 4 and whilst I am biased towards the Rocker and thought it was best that Marshall surprised me! Check it out:
FAQ
Where is the Orange Rocker 15 Made
The Rocker 15 is manufactured in China. Many of the Orange range of amps are made in China whereas the higher end amps are mostly made in the UK.
Does the Orange Rocker 15 Take Pedals Well?
Yes! Very well. The clean channel was designed to take pedals and that's one of the reasons it was kept neutral. It's a brilliant pedal platform if that's what you're looking for.
Does the Orange rocker 15 have Reverb?
Unfortunately not. It takes pedals exceptionally well so a reverb pedal will be a great addition to using the Rocker. But if you are someone who needs or prefers built in reverb from the amp then the Rocker 15 may not be for you.
Does the Orange rocker 15 have a Headphone Jack?
No, it doesn't. It's one of the few drawbacks and really there isn't any reason for Orange have not included one. I suppose they would argue that with the 0.5 watt switch you can play at such low volume you don't need headphones. But many people prefer to play with headphones and giving them the choice would have been better.
How Loud is the Orange Rocker 15?
In the 15 watt mode and turned up to max it is very loud. For a fairly small 1×10 it is surprisingly loud, and can easily keep up with drummers. Don't be fooled by its fairly diminutive size.
Is the Orange Rocker 15 Loud enough?
That depends on what "loud enough" means to you. If you are going to be playing stadium gigs to thousands of people then no, it very much isn't loud enough. But for playing smaller gigs and using at home or in the studio it's ideal.
Should you Buy the Orange Rocker 15?
There was a video review I watched before getting my Rocker (you can watch it here) and in it the reviewer called it a "jack of all, master of most", and that's exactly how I've found it.
If you want an amp to specifically play metal then you should look elsewhere. The same applies for very Fendery cleans. But if you want an amp that can go from jazz to really high gain and do everything in between then you aren't going to be disappointed.
I also think it would make an ideal first tube amp. If you're new to tube amps then the Rocker 15 is going to be a great starting point. For those who have been playing for a while but are still using an uninspiring modeller or the amp they originally got with their first guitar the Rocker 15 would make the perfect step up.
It's such a simple to use amplifier and the difference in sound and tones you'll get compared to many of the entry level modellers will be like night and day. Combined with the ability to lower the wattage to 1/0.5 and play at home without fear of being too loud makes it hard to beat.
Overall I love mine and can't see myself switching amps anytime soon. It doesn't everything I want and more and I couldn't be happier.