Blackstar are relatively new to the world of guitar amplifiers, at least in comparison to the big boys like Fender and Marshall. But in a short time they've made a big impression.
You see some of the biggest and most famous guitarists playing Blackstar amps and their more affordable ranges like the HT series and Fly are very popular with bedroom and beginner players.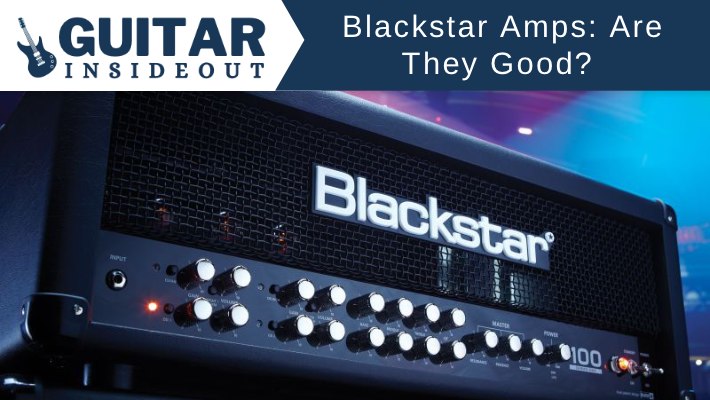 But are Blackstar amps good? Are they made well, do they sound good and what sort of music do they work best for playing?
We're going to take an in depth look at Blackstar amps and really drill down into their origins and whether they are as good as their reputation would have you believe.
History of Blackstar Amplifiers
Founded in 2004, Blackstar Amplification is the result of a group of ex-Marshall employees (with a huge amount of experience) meeting in a UK pub and deciding that there should be more innovation in amplification. For 2 and a half years they painstakingly researched and developed the vision they had for innovative amplifiers and pedals, much of it done from a shed in Northamptonshire.
2007 saw the launch of Blackstar's first products and it didn't take long before they grew in popularity. Since then they have had an incredibly quick rise to becoming one of the leading amplifier brands in the world.
You now see Blackstar amps on the biggest stages played by the most famous musicians as well as in stores alongside the likes of Fender and Marshall and in many aspiring guitarists bedrooms.
Who Owns Blackstar Amps
Blackstar amps are owned by its founding members. In 2017 Shawbrook Bank helped fund a management buyout of Blackstar so that the original four founders regained and now retain the ownership with Shawbrook coming onboard as financial partners.
Before that the investment business Foresight Group had invested in Blackstar in 2012 but restructured its shareholder base. The 2017 management buyout saw them exit Blackstar though.
Where are Blackstar Amps Made
Blackstar amps are made in China. There has been some confusion as they were originally made in South Korea but around 2014 they moved production to China.
All design and development is done in the UK however. But like so many amplifier manufacturers now they have found building their amps in China to be the most cost effective without sacrificing quality.
To avoid any doubts I reached out to Blackstar and this is what they said about their manufacturing:
"I can confirm that all of our amps are designed at our HQ in Northampton, UK and produced in China." – Harley-Joe Arnold, Customer Support at Blackstar Amplification
If you're concerned about an amp being made in China then keep in mind most of the biggest guitar and amplifier brands make a least some of their range in China. The manufacturing standards are much higher than they were in the past and you will struggle to find differences between China and UK made amplifiers.
Which Musicians Use Blackstar Amps
In a relatively short period of time Blackstar have got a lot of famous artists and guitarists to use and endorse their amps. Here's a list of just a few of the most well known:
Gus G of Ozzy Osbourne
James Dean Bradfield of Manic Street Preachers
Phil Colleen of Def Leppard
Neal Schon of Journey
Silenoz of Dimmu Borgir
Bob Mould of Husker Du/Sugar
Jason Cameron of Bury Tomorrow
Gaz Coombes of Supergrass
Huey Morgan of Fun Lovin' Criminals
Stephen Egerton of the Descendents
Frank Turner of Frank Turner and the Sleeping Souls
Kevin Armstrong of Iggy Pop
Jeff Stinco of Simple Plan
Frank Bello of Anthrax
Ed Robertson of Barenaked Ladies
This is just a select few of many artists who use different Blackstar amps and cabs.
Are Blackstar Amps Good?
It really depends on what you like. But overall yes, they produce a wide range of amps and for really good prices.
The Fly 3 mini amp is loved by those who need a tiny, desktop practice amp. Their ranges aimed at beginners or those looking for small practice amps are very popular.
They also do a good job of filling a gap for those sort of 'in between' guitarists. They're a very good "intermediate" amp – ideal for those who have outgrown their beginner amp but aren't necessarily in the market for a 'proper' gigging amp.
And of course they have the Series One, Artisan and St James ranges for the higher end, gigging musicians.
Combine all that with the fact that Blackstar amps are so affordable, versatile and sound good it's no surprise they've become very popular so fast.
Let's look at the pro's of Blackstar amps in more depth:
Price
Compared to many of their competitors Blackstar amps are very competitively and well priced. In fact there aren't many other amps with their set of features for the prices they are sold at.
The Fly 3 and ID Core range are great practice amps for very affordable prices. They make a good entry point for new guitarists who don't want to spend too much on an amp when just getting started.
There is very little that matches the all tube HT series for price and what you get. From the 1 watt option that is perfect for a home use tube amp through 5, 10, 20, 40 to the HT60.
At the more expensive end of the scale the St James and Stage 60 will set you back a fair amount. But you get a lot of amp for your buck!
Sound
They may not sound quite as good as a cranked Marshall or Fender but they're still pretty awesome. Especially the distortion.
You get a tasty and aggressive gain from most Blackstar's. They're almost certainly more well known for the distortion than their clean sound.
The cleans are still perfectly decent though. Not as crystal clear as a Fender but more than useable and not going to get any complaints.
They also get very loud! That's not to be overlooked as well.
Innovation
The ISF, or Infinite Shape Feature, is what really sets Blackstar amps apart from much of the competition. It's a clever tone control that can make any amp equipped with it sound more 'American' or 'British' voiced, depending on whether you set it.
Basically it makes your amp sound and react like an American style amp if you turn it one way and sound and react like a British amp if you turn it the other way.
Drawbacks
It isn't all positive though. Like most amps they aren't perfect and have some issues that might make you think twice before buying one.
Repairing
One of the major issues with a lot of Blackstar amps is that they are notoriously difficult to repair. They way they are built means that replacing components or doing basic repairs is extremely difficult.
Which means that they are seen as disposable amps. The type you buy for reasonably cheap but accept will die fairly soon and you'll need to replace it.
For those of you who expect your amp to last for decades or forever then it's likely you will be disappointed with anything Blackstar.
I'm not an amp tech so I can't properly explain the issues but this article does a good job of laying out the problems.
Are Blackstar Amps Reliable?
As with so many amplifier brands you get a mixed picture when it comes to reliability. Why? Because those who have issues make the most fuss and are the loudest whereas the many people happily playing their amp never speak out about how well it works.
So whilst there are people reporting some Blackstar's aren't all that reliable it's difficult to know how widespread that is.
Whilst all this is undoubtedly bad, it's important to keep their price in mind. There are very few amps that do as much as many Blackstar amps do for the price they're sold at.
It seems they are able to sell them for such affordable prices because they're cutting costs on the construction side. So it depends on what you're willing to risk or whether you can accept your amp may die sooner than you like and will need replacing.
What do Blackstar Amps Sound Like
The Blackstar sound or tone is quite like a more modern sounding Marshall. It's really all about the distortion.
That's not to say it's just an imitation of Marshall. Blackstar definitely have their own sound, more modern (as mentioned) and different enough to set them apart from Marshall. A touch darker, but very good for hard rock and metal.
They are fairly versatile as well and you can get good sounds for a variety of different genres from a lot of their amps. But if you're looking for really sparkling cleans then there are better options out there.
What are Blackstar Amps Good for
More so than a lot of a amplifiers you will find Blackstar amps being used across a wide range of genres and styles of music. From metal to pop and everything in between Blackstar's are very versatile.
They definitely suit a heavier style of music though: rock, hard rock and metal. Lots of rock guitarists have been switching to using Blackstar amps in the last few years.
But also if you just need a decent crunch without it getting too heavy then they can easily handle that as well.
Are Blackstar Amps Good for Beginners
Blackstar do a range of more affordable and basic amplifiers that are very well suited to beginner guitarists. Both their solid state and small tube amps are good for those testing the water of amplifiers.
The Fly 3 is a tiny desktop amp that sounds far better than it has any right to. For those who want a really small first amp the the Fly 3 is perfect.
The ID Core series are modelling amps that are designed for practice at home. They are fantastic amps for new players with lots of different types of amps and onboard effects to try out.
And the smaller wattage versions of the HT amps would also make really good first tube amps.
Are Blackstar Amps Good for Metal?
Yes, Blackstar amps are very good for metal. You only have to take a look at who use Blackstar's and you'll see lots of metal bands and guitarists.
That's because of the high gain they're known for. Most of the Blackstar tube amps have a fairly dark and aggressive distortion that works perfectly for metal.
Put an overdrive or tube screamer in front of them and you're into full blown death metal territory.
Are Blackstar Amps Good for Rock?
Yes, they're ideal for a straight up rock sound. In fact that's really what they were designed for.
Their quite dark, heavy gain works very well for a wide range of rock styles. It's just a straightforward, no nonsense gain that
Are Blackstar Amps Good for Jazz?
Whilst you almost certainly can play jazz on a Blackstar amp there are better choices available. As Blackstar amps are known for their distortion rather than cleans they won't be many jazz players first choices!
But if you want versatility and the ability to play heavier types of music as well as something like jazz then many Blackstar amps will be ideal.
Are Blackstar Amps Good for Blues?
While Blackstar's tend to excel more at heavier styles of music you can definitely get some good blues tones from many Blackstar amps. Use the ISF on the American side and get a low overdrive/slight crunch from your amp and it'll sound very bluesy.
This video is a good guide to dialling in lots of different tones from Blackstar amps: (It's using a Silverline but the same principles apply across all of their amps)
Do Blackstar Amps Take Pedals Well
It depends on the amp. Many of the HT range, the HT40 especially, work great as pedal platforms. The clean channels accept most pedals of all types.
You might find the gain channels on most of the Blackstar amps will need some tweaking when using Overdrive or fuzz pedals though. It's not that they don't play well with them it just requires a bit more eq-uing.
Marshall vs Blackstar Amps
Marshall and Blackstar are often compared because the Blackstar founders were originally senior employees at Marshall. So people expect them to be similar due to that shared history.
But they're not just cheap copies. They have a distinctive sound that differs from Marshall.
Marshall amps have a sound we all know: quite vintage and crunchy. But while they share similarities Blackstar's sound a lot darker and a bit more modern.
In terms of the types of the amps they build both do entry level modelling/solid state options, mid level and small tube amps as well as large, gigging amps and heads.
Blackstar vs Fender Amps
Many Blackstar amps have a really nice clean tone but not one that can compete with a good Fender. The Fender glassy, shimmery clean is iconic and if that's the sound you want it's best to get a Fender amp rather than try and match it with something like a Blackstar.
That's not to say Blackstar amps do poor cleans. It's just virtually every amp struggles to compete with the best Fender had to offer. And Blackstar's are basically rock amps, not designed for their clean tones.
So it's not really that fair to compare the two as they are very different types of amps.
Are Blackstar Amps all Tube?
No, Blackstar do many modelling amps as well as tube amps. The ID Core series are all modellers and the Fly 3 is solid state.
Even the Silverline is a digital amp.
So Blackstar have lots of options other than just tube amps.
How Much Do Blackstar Amps Cost?
It depends on the amp. The cheapest Blackstar amps like the Fly 3 and Debut start around $75 and $100 respectively but that goes all the way up to the St James 50 and HT-Stage 100 that are both around $1300.
FAQ
Do Blackstar Amps have Bluetooth?
Yes, the Blackstar Fly 3 and ID Core Beam both have Bluetooth. The rest of the Blackstar range do not have Bluetooth though.
Do Blackstar Amps Need Biasing?
It depends on the amp but most do, yes. The exceptions to this are the Artist 10 AE (Anniversary Edition) and the HT20 RH MKII. These do not need biasing.
If you're unsure though it's best to reach out to Blackstar directly and they will be able to tell you if your amp needs biasing.
What is the Blackstar ISF
The ISF is a type of tone control found on quite a few of Blackstar's amps. It works by changing the characteristic of the amp and how it's EQ reacts.
By turning the ISF control one way you get an 'American' sound with the EQ controls reacting like a more American style amp would do. Turn the ISF the other way and the same thing happens except now the amp has a British sound and the EQ reacts the way a traditionally British amp would.
Overall the ISF opens up the amp to have far more different tones and voicing than the usual EQ controls would usually allow.
Here's a full explanation of how the ISF works by Blackstar themselves.
Do Blackstar Make Bass Amps
Yes, Blackstar make a range of bass amps. The Unity series is the most well known and features a 30W through to 250W combos.
There is also the ID Core Beam and Fly 3 Bass amp for at home practice.
Are Blackstar Bass Amps Good?
Blackstar focus far more on guitar amplifiers rather than bass, and they aren't nearly as well known as some bigger bass amp brands. That doesn't make them poor though, it just means they haven't got the same reputation as others.
There is a worry that because Blackstar put their energy into guitar amps then the bass may get overlooked.
But they sound decent, are reasonably priced and have the brand name of a well known amplifier brand (albeit not for bass)
How Long is the Blackstar Warranty?
The Blackstar warranty for amplifiers, preamps and effects pedals is 1 year, extended to 3 years*. For Speaker enclosures it is 1 year, extended to 3 years*. For valves, fuses, meters, small accessories, rechargeable batteries it's only 90 days. And for guitars and stringed instruments, or Carry-on Products it's 1 year.
Note: According to the Blackstar website: *The extended warranty period is only applicable if the online product registration is completed and visible to us within 90 days of your purchase of the Product(s). Extended warranty is not available on Guitars and stringed instruments, Carry-on Products, accessories, rechargeable batteries or products without serial numbers.
So, are Blackstar Amps Good?
They may not have the brand name recognition or history of the other big amplifier brands that doesn't mean Blackstar amps are inferior. In fact they match up to a lot of the bigger boys in terms of price and sound.
If you want a well priced, good sounding amp for rock and metal then you won't go wrong with Blackstar.